Mariam Ghani (US) / "Tracexchangexcavate"
2004 - 19:40 min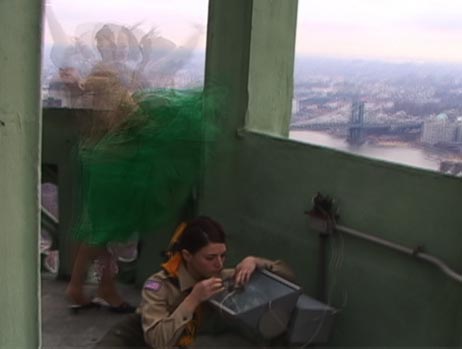 .: Statement
A skyscraper from the first days of Manhattan's finance frenzy, hollowed out in preparation for a residential conversion never completed, is reanimated for one night by the ghosts of its working past -- traces of the building's former lives which, unsettled by these inadvertent excavations into movement through the layers of history suspended in the echoing stairwells and elevator shafts, slip into the visible and audible one last time in the stripped-down spaces where all their daily rituals were once staged.
TRACEXCHANGEXCAVATE was developed and produced collaboratively with choreographer Emily Tepper and sound designer Michael Floyd, and performed onsite in the Woolworth Building by dancers from downtown New York companies. The video stages and films a series of site-specific performances in Lower Manhattan's original Cathedral of Commerce at a unique moment in its architectural history, then builds them into an experimental narrative whose characters, movement, formal structure, sound and visual design are commonly grounded in that architecture and history, locating the viewer immediately within the private life lived by a building left to its own devices. After all the workers have fled into the night, you can hear the creaking, crackling sound of the Woolworth shifting uneasily in its skin, rumbling with the possibility of change, running through its nightly routines and checking its internal eyes. When the building's ghosts emerge, they are humming, clicking traces of the Woolworth's past exchanges and the transactions at its foundation, glimpsed almost out of the corner of an eye on the deepest level of the basement. As they move up through the building's levels and layers of history, they gather more and more intention, passing further into the audible and visible until finally, as day begins to break, they go beyond, flickering out just as they achieve a final release of the building's official history.
.: Biography
Mariam Ghani is a Brooklyn-based artist who works in video, installation, new media, text, photography and public dialogue performance. She is a Soros and NYFA Fellow, has been an artist in residence at LMCC, Eyebeam Atelier, and Smack Mellon, and has exhibited widely since 1999, including at the New York Video Festival, the Asia Society, the Liverpool Biennial, the Danish Film Institute, transmediale.03 in Berlin, Futura in Prague, Smart Project Space in Amsterdam, Curtacinema in Rio, d/Lux in Sydney, EMAP in Seoul, and the Brooklyn, Bronx and Queens Museums. Her recent projects include a library of disappearance installed in Tribeca for the fourth anniversary of 9/11, a community-based project commissioned for the inaugural exhibition at the Arab American National Museum in Dearborn, an interactive video installation prototyped at Eyebeam, a net art commission for Turbulence, texts for the Sarai Reader 05 and Art in General, and interviews with RES, The Independent, Viralnet, and the BBC Persian World Service. She has a B.A. in Comparative Literature from NYU and an MFA from SVA, teaches in the Art & Technology program at the Stevens Institute of Technology in New Jersey, and is currently a resident Fellow of the Akademie Schloss Solitude in Stuttgart.
.: Selected exhibitions / Screenings
*indicates solo or collaborative presentation
2006
Underfire. September 8th – October 8th. I Space Gallery, Chicago.
Sommerfest 2006. June 24th. Akademie Schloss Solitude, Stuttgart, Germany.
Fast Futures: Asian Video Art. May 22nd-27th. Bose Pacia Gallery / Rubin Museum of Art, NYC.
If a cat gives birth to kittens in an oven, are they kittens or biscuits? April 29th – May 30th. Roebling Hall, NYC.
Interdigitate New Media Festival. April 22nd – May 5th. Galatos, Auckland, New Zealand.
d/Art/2006. April 12th – May 6th, Sydney Opera House, Sydney, Australia.
Detained. March 24th – May 5th. Asian American Art Center, NYC.
Site 92. January 21st – March 5th. Smack Mellon, NYC.
Moving Time: Tribute to Nam June Paik. January 20th – February 10th. Korean Culture Service, NYC.
The Studio Visit. January 7th- February 18th. Exit Art, NYC.
2005
America: Are We Drowning? December 10th – February 4th, 2006. Art Murmur, Los Angeles.
*Security Blanket: 55 Washington Recording Sessions. October 14th-16th. d.u.m.b.o. Art Under the Bridge Festival 2005, NYC. (site-specific installation/performance in collaboration with Nini Hu)
In the Shadow of Heroes. October 5th – 31st. ArtEast, Bishkek, Kyrgysztan.
The World Is a Safer Place: A Survey of Nonconformist Art. September 23rd – December 10th. The Globe City Gallery, Newcastle, UK.
Puntos Cardinales. September 10th – October 2nd. PS122, NYC.
After Effects. September 8th – 11tth: Tribeca Performing Arts Center, NYC. October 18th – November 4th: 15 Nassau, NYC.
18th Annual Dallas Video Festival. August 3rd – 7th. Dallas Museum of Art & Dallas Theater Center, Dallas, TX.
Media in "f": Fifth Ewha Media Art Presentation. June 21st – 30th. Ewha Art Center, Seoul, Korea.
BROOKLin Video. May 28th – August 30th. Futura, Prague, Czech Republic.
Political Video from New York. May 26th. Objectnotfound, Monterrey, Mexico.
IN/VISIBLE: Contemporary Art by Arab American Artists. May 20th – October 31st. Arab American National Museum, Dearborn, MI. (commissioned project for inaugural exhibition)
The Taste of Others. March 5th. Apex Art, NYC.
Paul Chan & Mariam Ghani: Art, War & Activism. March 4th, 2004. Kevorkian Center for Middle East Studies & Center for Media, Culture & History, NYU, NYC.
Independent Heroines 2005 Film Festival. February 9h. The Cube Cinema, Bristol, UK.
Produced@Eyebeam: Work in Process. January 20th – March 5th. Eyebeam Atelier, NYC.
2004
Democracy Was Fun. November 19th – December 11th. White Box, NYC.
CPH:DOX.. November 7th-16th. Danish Film Institute, Copenhagen, Denmark.
d.u.m.b.o. Short Film & Video Festival. October 15th – 17th. d.a.c., Brooklyn, NY.
Liverpool Biennial 2004: The Transparent Eyeball. September 18th – 19th: FACT Centre for Film, Art & Creative Technology; September 18th – October 23rd: Biennial Mobile Cinema, 55 New Baird St. Warehouse, Independent Quarter. Liverpool, UK.
5th Biennial New Arts Program Video Festival. September 7th – 25th. Paula Cooper Gallery, NYC. (honorable mention for experimental video, jurors John Hanhardt & Sally Berger)
Fear Will Not Silence Us. August 21st. Alwan, NYC.
*Six Feet Under: Make Nice : Chitra Ganesh & Mariam Ghani. July 27th-31st, 2004. White Box, NYC.
Blow the Conch. July 24th, 2004. PS122, NYC.
Explosion LTTR: Elusive Quality. July 19th, 2004. Participant Inc., NYC.
Subway Series: The New York Mets & Our National Pastime. July 18th – October 24th, 2004. Queens Museum of Art, NYC.
Theater, Music, Words & Film on the Immigrant Experience. July 15th, 2004. The Asian American Writers Workshop, NYC.
In a Time of War. Allied Media Conference Film Festival curated by Rooftop Films. June 16th-18th, 2004. Bowling Green State University, Bowling Green, Ohio.
Un-American Films. July 4th, 2004. Rooftop Films Summer Season, The River Project, Pier 26, NYC.
Martha & Me. June 12th – July 17th, 2004. Gallery onetwentyeight, NYC.
Tactical Action: Hit 'n Run. June 1st, 2004. Gigantic Art Space/Pier 63, NYC.
Contemporaneity: An Exhibition of Contemporary Video Works. April 24-30, 2004: Peace & Respect Festival, G. Aitiev Kyrgyz National Museum of Arts, Bishkek, Kyrgyz Republic; May 2-7, 2004: Academy of Fine Arts, Tashkent, Uzbekistan.
Open House: Working in Brooklyn. April 16th-August 15th, 2004. Brooklyn Museum of Art, Brooklyn, NY.
*Seeing Through Afghanistan: Afghanistan Re-Viewed Through Music & Film. March 26th-28th, 2004. Wesleyan University, CT. (solo screening & lecture within three-day event)
[R][R][F] 2004 : [Remembering-Repressing-Forgetting]: Global Networking Project. February 20th –March 15th, 2004: National Museum of Contemporary Art Bucaresti, Romania, BEK Bergen, Norway and Folly New Media Institute, Lancaster, UK. April 1st – May 16th, 2004: 2nd Thai New Media Art Festival, Bangkok, Thailand; Now Music Streaming Festival, Berlin; BASICS Festival, Salzburg, Austria; Pescara Electronic Arts & Media Festival, Pescara, Italy; Version04 Festival, Chicago, IL. June 21st –August 3rd: VI Havana Salon y Coloquio de Arte Digital, Cuba; Split Festival of New Film & New Media, Croatia; public_space_festival Yerevan, Armenia; West Coast Numusic & Electronic Arts Festival Stavanger, Norway September 13th – 30th: Perth Biennale of Electronic Arts, Australia. Online at www.newmediafest.org/rrf2004/ through 12/04.
Universal Games/Everything Is Gonna Be Alright. Cinema East Spring Season. February 19th, 2004. Cantor Film Center, New York University, NYC.
5th Biennial New Arts Program Video Festival. January 12th- February 27th, 2004, Marywood University Art Galleries, Scranton, PA.
2003
13a Mostra Curtacinema. November 27th – December 7th, 2003, Rio de Janeiro, Brazil. (opening night selection)
Canal Street Projection Project. October 26th-November 1st, 2003. New Orleans, LA.
*Permanent Transit. October 30th, 2003. Smart Project Space, Amsterdam, Netherlands.
5th Biennial New Arts Program Video Festival. October 12th, 2003 – January 3rd, 2004, Hunterdon Museum of Art, Clinton, NJ.
Breaking News. October 9th, 2003. stART@Judson Church, NYC.
AIM 23. July 16th - September 28th, 2003. Bronx Museum of the Arts, NYC.
The New York Video Festival. July 23rd –27th, 2003. Film Society of Lincoln Center, NYC.
Open Zone XII. June 29th, 2003. Ocularis at Galapagos, Williamsburg, NYC.
Exit Biennial: The Reconstruction. March 8th - May 31st, 2003. Exit Art, NYC.
transmediale.03: play global! February 8th – 17th, 2003. Berlin, Germany.
[BLANK]: In Pursuit of An American History. January 24th - February 12th, 2003, SAC Gallery, Stony Brook University, Stony Brook, NY.
Init.Two. January 17th, 2003, Visual Studies Workshop, Rochester, NY.
2002
Media(less) Medium. November 17th & 23rd, 2002. Mills Gallery, Boston Center for the Arts, Boston.
Afghan-American Women in Film. October 19th, 2002. Asia Society, NYC.
=7. September 19th, 2002. Brooklyn Academy of Music Rose Cinemas, Brooklyn, NY.
Lost & Found. July 11th – 27th , 2002. Visual Arts Gallery, SoHo, NYC.
Mango. June 28th - July 27th, 2002. Talwar Gallery, NYC.
(far from) Home Videos. June 16th, 2002. Remote Lounge, NYC.
* Parallel Frames. February 10th, 2002. Fletcher School of International Diplomacy, Tufts University, Boston. (Solo screening & artist talk)
2001
* Parallel Frames. November 30th, 2001. Middle East Film Series, Kevorkian Center & Center for Media, Culture, & History, New York University, NYC. (Solo screening & talk)
Progress. Sept-Oct 2001. Armenian Center for Contemporary Experimental Art, Yerevan, Armenia
* Parallel Frames. August 22nd, 2001. Armenian Center for Contemporary Experimental Art, Yerevan, Republic of Armenia. (Solo screening & artist talk)
2000
Works in Progress. January 2000. The Clairaudience Collective, Williamsburg, NYC.
1999
Repeat Fugitive/Nachdenkung über die Einsamkeit. March 1999. Dreams Café, Florence, Italy.
.: Education
B.A. summa cum laude Comparative Literature, New York University, 2000.
MFA Photography, Video & Related Media, School of Visual Arts, 2002.
.: Fellowships, Awards & Residencies
Akademie Schloss Solitude Fellowship, 2005-07.
Longwood Digital Matrix Commission, 2006.
Smack Mellon Artist in Residence, 2005-06.
NYFA Fellowship in Computer Arts, 2005.
Eyebeam Atelier Artist in Residence, 2004.
Turbulence.org Net Art Commission, 2004.
Lower Manhattan Cultural Council Artist in Residence, Woolworth Building, 2003-04.
Artist in the Marketplace, Bronx Museum of the Arts, 2002-03.
Paul & Daisy Soros Fellowship for New Americans, 2000-02.
Aaron Siskind Memorial Scholarship, 2001.