Filipa César (PT/DE) / "Romance Reedit" - 2003 - 08:50 min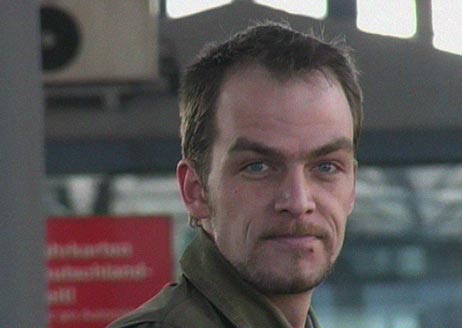 .: Statement
For the video "Romance Reedit" (2003), the artist filmed people at train and subway stations. The editing is used as a fictional device to allow sketches of relationships to be created between strangers who exchange glances, either motivated by curiosity or attraction, or reacting to the discomfort of being under observation. The contradictory nature of the exchange of glances is thus exposed: the glance as a means of contact and a communicational link with others, as an attempt to overcome the loneliness of the individual; the glance as staring, a transgression of the rules of decorum and distance between strangers, a violation of the individual's intimate space protected by anonymity.
.: Biography
Berlin-based artist, Filipa César (b. 1975, Oporto), explores collective social behaviour in her documental videos. The attentive and inquiring observations she chooses to develop, divert her objects from their public
domain, rendering them a new critical and aesthetic vocation. Since taking part in the 8. Istanbul Biennial, 2003, she has participated in several international exhibitions, for instance Transmediterráneo at the Centre
d'Art Santa Mónica, Barcelona in 2004, Berlin Zoo, Part 02 at Kunsthalle Wien and Product Displacement at the Calouste Gulbenkian Foundation in 2004. Her most recent installation, F for Fake, was featured at this year's Art Unlimited show in Basel. César opened Ringbahn at the Serralves Museum in October of 2005.
.: Education
1999 Graduated in Fine Arts – Painting at the Fine Art Faculty, Lisbon University
1996 BA in Fine Arts – Painting at the Fine Art Faculty, Oporto University
.: Selected Exhibitions
Solo Exhibitions
2006
F for Fake and Ringbahn, Sint-Lukas Gallery, Brussels (Curated by Filip Luycky)
2005
Ringbahn, Serralves Museum, Oporto (curated by João Fernandes)
Berlin, Noga Gallery of Contemporary Art, Tel Aviv
Ringbahn, Küchenstudio, Schaubühne am Lehniner Platz, Berlin
F for Fake, Cristina Guerra Contemporary Art, Lisbon
Aura, Galeria Distrito Cu4tro, Madrid
2004
Transmediterráneo, Centre d'Art Santa Mònica, Barcelona (curated by Miguel von Hafe Pérez)
Berlin Zoo, Part 02, Project Space, Karlsplatz- Kunsthalle Wien, Viena
Menschen Tiere Attraktionen, bergstueblPROJEKTE, Berlin
2003
Product Displacement, Fundação Calouste Gulbenkian, Lisbon
2002
Sets for thoughts, Cristina Guerra Contemporary Art Lisbon
Hotel, Emser Arkaden, Bad Ems
SlowMotion, Estgad, Caldas da Rainha and Fundação Calouste Gulbenkian, Lisbon
1998
G.O.D.- General Observation Downstairs, Faculdade de Belas Artes, Lisbon
1997
My bicycle's passion for yellow boxes, Akademie der Bildenden Künste, Karlsruhe
Group Exhibitions
2006
Concrete Language, Contemporary Art Gallery, Vancouver (curated by Jenifer Papararo)
Femmes d'Europe à Saint-Tropez, La salle Jean-Despas, Saint Tropez (curated by Suzanne Vanhagen)
Urban Spaces, Galerie Dina 4, München (curated by Patricia Drück)
Das Fest, Residency of the Portuguese Ambassador in Berlin (curated by Ana Pinto)
Diegesis, Schleswig Holsteinhause and Staatliches Museum Schwerin, Schwerin (curated by Nuno Faria)
Sede e Museu da F.C.G: A Arquitectura dos anos 60, Fundação Calouste Gulbenkian, Lisbon (curated by Ana Tostões)
2005
Portugal Novo: Artistas de Hoje e amanhã, Pinacoteca, São Paulo (curated by Alexandre Melo)
Tableaux Vivants, Museu de Serralves, Porto (curated by Ulrich Loock e Sandra Guimarães)
Temporary Import, Artforum, Berlin (curated by Suzanne Titz)
In Progress, 58th Locarno International Film Festival, Locarno
ArtUnlimited, Basel (curated by Simon Lamunière)
Artstars- Shooting Star, ON25, Luxemburg (curated by Diana Baldon)
60th Anniversary of ONU, NUOI, Geneva (curated by Simunetta Luz Afonso)
Portugal: Algumas Figuras, Alameda Art Laboratory (LAA), Mexico City (curated by João Pinharanda)
2004
Video Zone, 2nd International Video Art Biennial, Tel Aviv, Israel (curated by Sergio Edelsztein)
Believe it or not, Kunstraum Kreuzberg/ Künstlerhaus Bethanien, Berlin (curated by C. Burbaum, M. Röhrborn and O. Pietsch)
Continental Breakfast, 45 October Salon, Cultural Center, Belgrado (curated by Anda Rottenberg)
Close by (Time Space Architecture), Gallery Mai36, Zurich (curated by Victor Giesler and Luigi Kurmann)
Re-Produtores de Sentido, SESC Rio, Rio de Janeiro (curated by Miguel Von Hafe Pérez)
Carte Blanche, Théâtre des Salins (curated by Rui Pedro Morais)
Video Shop, Intervenciones en la calle Alfonso, Zaragoza (curated by Pilar Cruz and Maribel Perpiñá)
True Lies, Kallmann-Museum, Munich (curated by Reihnard Spieler)
Arte Contemporânea na Assembleia: César, Queiroz, Sendas, Vasconcelos, Palácio de S. Bento, Lisbon (curated by Simonetta Luz Afonso)
SESIÓN CONTINUA DVIDEO, Galería DV, San Sebastián, Spain (curated by Margarita Sanchez)
PØRTUGÅL- 30 artists under 40, The Stenersen Museum, Oslo (curated by Pedro Portugal)
True Lies, Franz Gertsch Museum, Bern (curated by Reihnard Spieler)
Meeting between 2 Collections: Serralves Foundation - "La Caixa" Foundation, Caixa Forum, Barcelona
2003
Off Loop'00, Post-Portugal, met.Room, Barcelona (curated by Pilar Cruz and Maribel Perpiñá)
Otras alternativas. Novas experiencias visuales en Portugal, MARCO, Vigo (curated by David Barro)
Trabalho, Centro de Artes Visuais, Coimbra (curated by Albano da Silva Pereira e Miguel Amado)
Poetic Justice, 8.Istanbul Biennial, Yerbaten Cistern, Istanbul (curated by Dan Cameron)
União Latina Prize, Culturgest, Lisbon
Balmoral in Berlin, Landesvertretung Rheinland-Pfalz, Berlin
Cutting Edges, ARCO, Madrid (curated by Miguel von Hafe Pérez)
2002
Video Lounge, Miami Basel, Miami
Contemporary Art from Portugal, European Central Bank, Frankfurt (curated by Pedro Lapa and Heike Sutter)
Video Zone, 1st International Video Art Biennial, Tel Aviv, Israel (curated by Miguel Wandschneider and Catarina Campino)
Seiten, Antiquariat Gundel Gelbert, Cologne
Home Sweet Home, MAN, Nuoro (curated by Chiara Leoni)
and then there were nine, Kulturamt in der Fruchthalle, Kaiserslautern (curated by Andrea Edel)
Narrando Espaços, Tempo, Histórias…, XXVII Bienal de Arte de Pontevedra, Pontevedra (curated by Maria de Corral)
Deutsches Eck, Galerie Václava Spály, Praga (curated by Jiri Suruvka)
Expect the world, moi non plus, Sparwasser HQ and Parkhaus, Berlin (curated by Ana Pinto)
2001
Voyager- Experimenta Design, Lisbon (curated by Pedro Gadanho)
Situation Zero, Yerba Buena Center for the arts, San Francisco (curated by René de Guzman)
Night Visions- Schnittraum, Ludwig Museum, Cologne (curated by Corinna Schnitt)
Biberstein, César, Onofre, Sarmento, Sendas, Toscano, Galeria Cristina Guerra, Lisbon
Streetwear, Galeria da Mitra, Lisbon (curated by Fransisco Vaz Fernandes)
Milano Europa 2000-Anteprima Bovisa, Triennale, Milan (curated by Alexandre Melo)
Voyager-Experimenta Design, Milan (curated by Pedro Gadanho)
Disseminações, Culturgest, Lisbon (curated by Pedro Lapa)
Colecção Banco Privado, Serralves Museum of Contemporary Art (MACS), Oporto. (curated by João Fernandes)
2000
Collection Banco Privado, Museu de Arte Contemporânea Serralves, Oporto (curated by Alexandre Melo)
Contaminantes / Comunicantes, S.N.B.A., Lisbon (curated by Paulo Mendes, David Santos, Victor Neves)
Depósito, Casa Fernando Pessoa, Lisbon (curated by Leonor Antunes e André Guedes)
Southern Exposure, www.gotofrisco.net and Sister Spaces, San Francisco (curated by Galeria ZDB)
Plano XXI - Portuguese Contemporary Art, G-mac, Glasgow (curated by Paulo Mendes)
Left a good job in the city, Galeria Care of. Milan (curated by Bert Theis)
W.C.-Container-Phallus Anxiety , Edifício Artes em Partes, Oporto (curated by Paulo Mendes)
.: Grants and Prizes
1997 Erasmus- Socrates Grant, Karlsruhe
2000 Young Creators – Centro Nacional de Cultura Grant, Lisbon
2001 Post-Graduation – DAAD Grant, Munich
2002 Pépinières européennes pour jeunes artistes Grant, Bad Ems
2003 União Latina Prize, Lisbon
2003 Fundação Calouste Gulbenkian Grant, Berlin
2004 Fundação Calouste Gulbenkian Grant, Berlin
2004 Hauptstadtkulturfons – Berlin, production support for the video Installation Ringbahn