Nesrine Khodr (LB) / "L'avancée" - 2006 - 14 min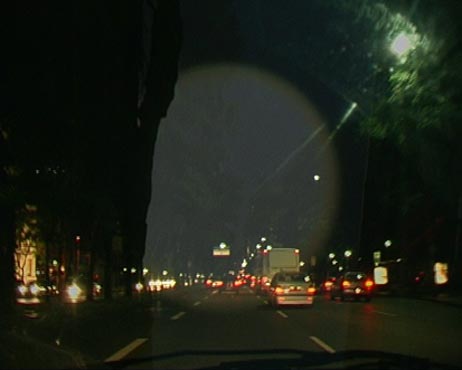 .: Statement
"Belo Horizonte, Brazil. 2005. I am a stranger in this city. I drive through one of the main avenues at nightfall. This journey has a set duration and destination. Fragments of sounds and dialogues are heard. I left the sound at the periphery, left the image at the periphery. But I try to keep moving in a clear and steady direction. What we know most of a place is that which it hides. So what I sought to do is to propose secrets rather than insights.
When making a portrait of a place, a person, a moment, a feeling, or an idea, I hope to give a different facet to it. I am on a constant search to merge my intimate self with a certain detachment that characterizes my work, though the themes and their treatment may vary. I embark on journeys with the potential to reshape my approach. I try to render this process hoping that what might transform me will be conveyed.
I aim at deconstructing the poetic moment, at exposing it. Soundscapes are thoroughly worked along with the image as well as spoken or written text."
-Nesrine Khodr
.: Biography
Born in Beirut in 1973, Nesrine Khodr is a video artist who lives and works in Beirut. Her works include: Of seduction, 32'(1998), Ain 'al Hamra (Red is the colour of my eye), 23'(2000), and more recently Enclosures, 22'(2004) and L'avancée, 14'(2006).
.: Selected exhibitions and festivals
1999-2006
Paço das Artes, Sao Paulo, Brazil, Feb-March 2006
Transmediale, Berlin, Feb 2006
Ellen de Bruijne gallery, Amsterdam, the Netherlands, Dec-Jan 2006
Frankfurter Kunstverein, Frankfurt, Germany, Oct-Nov 2005
Les instants videos, Marseilles, France, Nov 2005
Le tarmac de la villette theatre ,Paris, France, Oct 2005
Videolisboa, Lisboa, Portugal, Sep 2005
Videobrasil, Sao Paulo, Brazil, Sep 2005
Le festival du film Libanais, Beirut, Lebanon, Aug 2005
Progme: electronic and video festival of Rio de Janeiro, July 2005
Architecture film festival Rotterdam, the Netherlands, June 2003
First Arab film festival Minnesota, U.S.A, March 2003
World wide video festival, Amsterdam, The Netherlands, Oct 2001
Argos festival, Brussels, Belgium, Sep 2001
Blackmovie, Genève, Switzerland, Apr 2001
Hamra street project, AshkalAlwan, Beirut, Lebanon, 2000
Les 'écrans documentaires, Gentilly et val-de- marne, France, 2000
Beirut international film festival, Beirut, 1999