Mai Yamashita and Naoto Kobayashi (JP/CH)
"When I wish upon a star" - 2004 - 02:21 min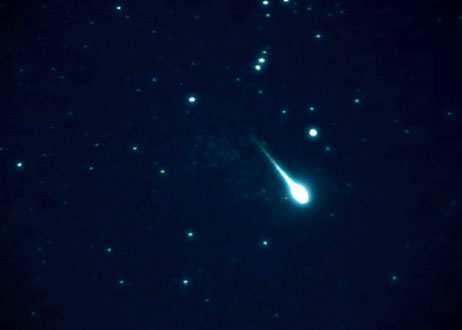 .: Statement
In "When I wish upon a star" Yamashita and Kobayashi prolonged a videotaped image of a real shooting star, whose duration is originally less than a second, into about two minutes in order to make it long enough for Yamashita to make all her selfish wishes on the shooting star.
For example: I wish to become a great artist... I wish to speak German fluently... I wish to produce masterpieces...Presenting this obviously childish act of tampering, artists try to redraw the shape of human desires.
A shooting star appears for just a second and is very rare. That is why it is said that our wish will come true if we make it before a shooting star disappears.
In this work "wishes out of control" are expressed, wishes that will never become true.
.: Biography
The Japanese artist duo Mai Yamashita, born in 1976, and Naoto Kobayashi, born in 1974, works in the fields of performance and video art. They always try to establish a direct relationship to the real world, especially to nature. Ever since they had met in the art club of high school in Japan, they have been working together. Both of them studied at MFA Tokyo National University of Fine Arts and Music. They have participated in major international exhibitions and festivals (Philip Morris K.K. Art Award 2002 "The First Move", Tokyo International Forum, Japan; 2003 / EMERGENCY 2, Aspex Gellery, Portsmouth, UK; 2005 / transmediale.06, Akademie der Künste, Berlin, Germany / ARS 06, KIASMA Museum of Contemporary Art, Helsinki, Finland; 2006. etc.)
Mai Yamashita
2004 M.A.Tokyo National University of Fine Arts and Music, Oil painting
2001 B.A. Tokyo National University of Fine Arts and Music, Oil Painting
1976 Born in Chiba, Japan
Naoto Kobayashi
2002 M.A. Tokyo National University of Fine Arts and Music, Oil painting
1999 B.A. The University of Tsukuba, School of Art and Design, Oil painting
1974 Born in Chiba, Japan
.: Selected Exhibitions / Screenings
2007
Villa am Aabach, Uster, Switzerland (solo)
2006
"Small mischiefs", Pump House Gallery, London, England
"Shrewsbury Open 2006 – Unnatural Selection", Shrewsbury Museum and Art Gallery, Shrewsbury, UK
"Gstaad Film Festival 2006", Gstaad, Switzerland
Screening "Theory of Everything", LocationOne, NY, USA
"7th Media Forum of MIFF", Moscow, Russia
"PHOTOESPAÑA 2006", Madrid, Spain, as a part of vide program "Pixapins"
"EMAF:European Media Art Festival Osnabrück", Osnabrück, Germany
"SHOWCASE_International Portfolio Review", Zürich, Switzerland, as a part of tank.tv's Showreel.
"badmeister kunst und sport teil 2", Hallenbad Wald (swimming-pool), Wald, Switzerland
"transmediale.06–video selection" touring events, tesla, Berlin, Gemany / transit_06.by, minsk, Russia / [plug-in] Basel, Switzerland / Athens Video Art Festival, Athens, Greece etc.
"Indblik", Herning Kunstmuseum, Denmark
Screening "Theory of Everything", Workstation Arts Center, Beijing, China
Screening at ICA: Institute of Contemporary Arts, London, England
"Trans_vision" V&A Friday Late, the Victoria & Albert Museum, London, England
"tank.tv", on-line video exhibition, England
"transmediale.06", Akademie der Künste, Gallery ZERO (solo), Berlin, Germany
"ARS 06", Museum of Contemporary Art KIASMA, Helsinki, Finland
"The Peninsula", curated by Heman Chong, Singapore History Museum, Singapore 2005
"EMERGENCY 2", Aspex Gallery, Portsmouth, England
"Kasseler Dokumentarfilm und Videofest", Kassel, Germany
"LOOP :THE PLACE FOR VIDEO ART LOVERS", Barcelona, Spain
"Rosa!" :the Exposed Colour Pink, Chinretsukan Gallery of The University Art Museum, Tokyo
"Der Wettbewerb / The competition", Erfurt Station, Germany
2004
"The World is Mine", Hiromi Yoshii Five, Tokyo, Japan
"Voice of Site" -Tokyo-Chicago-New York-, Former Sakamoto Shogakko Elementary School Building, Tokyo, Japan
2003
"Green Space 2_licht/schatten", Haus am Horn, Weimar, Germany
2002
"Green Space", Tokyo National University of Fine Arts and Music, Ibaraki, Japan
"Nanohana-Satomi-Hakken-Ten"_Art Universiade_, Chiba, Japan
"Philip Morris K.K. Art Award 2002 -The First Move", Tokyo International Forum, Tokyo, Japan
2001
"dam has broken", Tokyo National University of Fine Arts and Music, Tokyo, Japan (solo)
.: Residency / Workshop
2006
Residency in Künstler Atelier AKKU Uster, Uster, Switzerland
Workshop "Shooting Star Party", Museum of Contemporary Art KIASMA, Helsinki, Finland
2005
Workshop, Academy of Fine Art, Poznan, Poland
.: Publication
2006
catalogue, "ARS 06" Museum of Contemporary Art KIASMA, Finland
catalogue, "transmediale.06", Germany
magazine, KIASMA MAGAZINE 30-06, Museum of Contemporary Art KIASMA, Finland
2005
newspaper, "Helsingun Sanomat", Finland
catalogue, "Kasseler Dokumentarfilm und Videofest", Germany
2004
catalogue, "The World is Mine", Japan
2002
catalogue, "PHILLIP MORRIS K.K. ART AWARD 2002-THE FIRST MOVE", Japan
.: Prize/Award
2006
"2nd Prize" Gstaad Film Festival 2006, Gstaad, Switzerland
"Künstler Atelier AKKU Uster" Atelierstipendium, Uster, Switzerland
"Honourable Mention" transmediale.06, Berlin, Germany