Özlem Sulak (TR) / "Granny" - 2005 - 9 min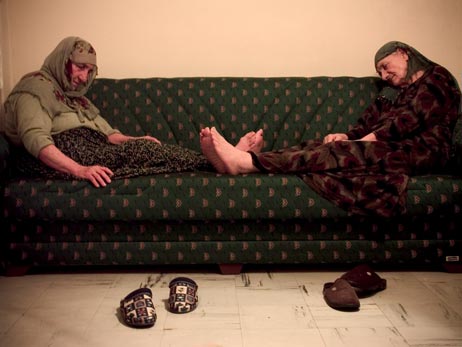 .: Statement
The Istanbul-based artist Özlem Sulak uses the media of video and photography to deal with her own past, with the history of her family and the different ways her family comes to terms with migration. Sulak's experiences in Western countries such as Great Britain and Germany and her examination of the stereotypes with which she was confronted, led to a group of works that analyse individual identities and show their instability and ambiguity. She is always concerned with personal freedom and the investigation of different societies and their images.
In the video Granny (2005) she conducts an interview with her grandmother and great-aunt about their history of immigration from Yugoslavia to Turkey. Together with the video Cousin (2005), where Sulak documents her trip from Hildesheim to Hannover and the first encounter with her relatives living there, the film convey a very inconsistent image of Sulak's family: the two elderly, remorseful ladies pull Turkey to pieces and seem to have felt uncomfortable there all their life; the family of the aunt and cousin, on the other hand, leads a very traditional Turkish life in Germany. Where can Sulak herself be positioned? She only allows for a very indirect answer to this question.
.: Biography
Born 1979 in Kayseri, TR, lives in Istanbul.
.: Awards & residencies
2006 Residency in Künstlerstätte Schloß Bleckede
2005 Residency in Kunstverein Hildesheim
2004 Akbank Special Award, Istanbul
.: Exhibitions & screenings
2006
Play: Special Edition, Okto Tv, Vienna, "Love Letters"
4th International Student Trienal, Marmara University, Istanbul, "Love Letters"
Under.Ctrl Screening by Nomad, Forum Stadtpark, Graz, "March-on"
The International Festival Sarajevo "Sarajevo Winter", "Granny"
Snapshot 1, CeC & CaC 2006, New Delhi, India, "Seashellsea"
2005
Turmgaeste Teil 2, Kunstverein Hildesheim, "Cousin"
1000 Lies of Identity, Siemens Gallery Space, Istanbul, "Granny", "First Step"
Loosing CTRL Screening by Nomad, Pro Helvetia, Skopje / The Israeli Center for Digital Art, Holon / Transmediale Festival 05, Berlin, "March-on"
Hüsamettin Koçan Workshop Exhibition, MÜGSF, Istanbul, "Granny", "Love Letters"
Love, Maya Uptown Gallery Elturko, Istanbul, "Love Letters"
2004
Moment & Focus, Siemens Gallery Space, Istanbul, "The Egg"
What I see today has little to do with me, Bilgi University, Istanbul, "Love Letters"
23rd International Contemporary Artists Exhibition, DSM, Diyarbak?r / Aksanat, Istanbul, "Wright in Time", "Rocinante", "Seashellsea"
New Proposals12, Borusan Gallery, Istanbul, "Magic Shoes", "Respect Your Elders!", "Seashellsea"
Loosing CTRL, Babylon Club, Istanbul, "Wright in Time"
2003
Respect and Rage, Honda Center, Istanbul, "Respect your elders!"
2002
Istanbul Pedestrian Exhibition 1, Istanbul, "Magic Shoes 2"
Wright in Time, The Spitz Gallery, London, "Wright in Time"