Luis Emilio Valdés Rodriguez (MX) / "VIDEO#1" - 2006 - 8 min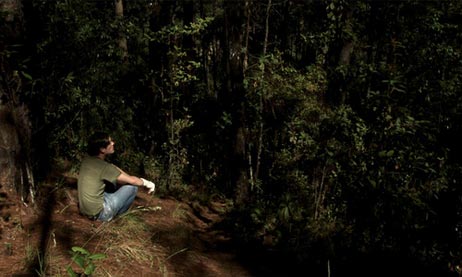 .: Statement
"VIDEO#1 is about a young character completely alone in the forest. "Niño Antiguo" (old boy) is apparently in a safe environment, calm and nice. But here everything can happen, he can find his most beautiful dreams and his most terrible nightmares too, in this mysterious forest he is alone casually and healthy, but finally what's going on there? Probably nothing, probably everything is boring, probably everything is wrong and calm."
-Luis Emilio Valdés Rodriguez
.: Biography
Luis Emilio Valdes Rodriguez was born in 1982 in Mexico City, where he still lives and works. In his art, he uses mainly video, photography and occasionally drawing. Through these media he expresses his attitude in relation to the daily values or anti-values of the contemporary society.
The particular break-up in the narrative of his video aims to reflect the speed of life and, at the same time, the passivity and the contemplation of emotions, in an age of dreams and desires that will be able, or not, to become facts.
The work of Valdés presents various facets. It deals with subjects such as solitude, young-urban-alignment, nostalgia of the early adolescence and the fantasy, the masculine sensitivity and the mix-up with the traditional maturity.
.: Selected Exhibitions
Solo shows
2006/March 9 to 21, "Un destino sorpresa", Galería "Proyectos Monclova", Mexico City (MX)
2005/June 7 to 21. "Instantáneas #2", Galería "La Esmeralda" in the ""Escuela Nacional de Pintura Escultura y Grabado "La Esmeralda", Mexico
2004/March 9 to 30. "Instantáneas #1", "Espacio Alternativo" in the ''Escuela Nacional de Pintura Escultura y Grabado "La Esmeralda", Mexico
Group Exhibitions
2006/ May, "Bolívar36 a reflection between drawing and video" a project by Fernando llanos. Artists: Manolo Areola, Ady Carrión Parga, Ivan Edeza, Hector Falcón, Fernando Llanos, Emilio Valdés
2006/ May 26, "Camarena" a video selection by Txema Novelo for the contemporary museum of "Zamek Ujazdowski" Warsaw (PL). Artists: Artemio, Paulina Lassa, Emilio Valdés, Marcos Castro, Miguel Calderón, Miki Guadamur
2005/ August 19 to October 20), "Life is habit", in the Stenersen Museum. Curator: Guillermo Santamarina (Oslo, NO)
2005/ February 11 to March 5), "Nuevas Castas", curatorial Project of Carlos Aranda Márquez, Galería "Fernando Pradilla", Madrid (ES)
2004/ September, "X años de la Esmeralda en el CENART", Centro Nacional de las Artes, Mexico City, Canal 23, Curator: Manolo Arreola
2004/ July 31, "Rock & Roto", ex – teresa arte actual, Mexico City & Barcelona
2004/ July 22 to August 1, "VI Convocatoria Internacional de Jóvenes Artistas", galería "Luis Adelantado", Valencia (ES)
2003/ December, "Bandits Mages", 8e festival des arts multi-média, Bourges (FR)
.: Scholarships
2004-2005/ Selected for the programme "Jóvenes Creadores" 2004-2005
2005/February, "Tercer lugar. Conciencia Concéntrica. Fundación centro histórico"