Emily Richardson (GB) / "Block" - 2005 - 12 min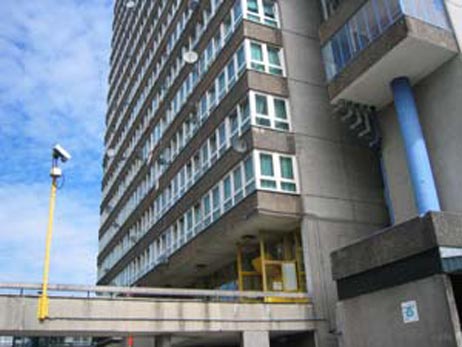 .: Statement
"Day through night BLOCK is a portrait of a 1960's London tower block, it's interior and exterior spaces explored and revealed, patterns of activity building a rhythm and viewing experience not dissimilar from the daily observations of the security guard sat watching the flickering screens with their fixed viewpoints and missing pieces of action.
Block was made over a period of 10 month period in a tower block in south east London from 2004 –05. The film is a portrait of the place that came out of much time spent there.
The security guards office and the bank of CCTV monitors with their random editing patterns and missing pieces of action were used as a starting point in terms of the camera techniques and editing structures employed in the film. All seeing, but seeing nothing at the same time. Working with static camera the fixed shots are repeated and edited together in sequence in a similar way to the CCTV camera recordings that flick from one camera view to another, often disrupting the (visual) 'narrative'.
The contrast between the exterior and interior of the building, the impersonal common spaces and the personal spaces of the interior of people's flats gives shape to the portrait.
The soundtrack was built up from recordings made on location at the time of shooting and sounds gathered from various sources and was composed and mixed by Jonah Fox.
Block was made for an exhibition at Cafe Gallery, London, was recently shown at Rotterdam International Film Festival and will be part of an exhibition at the Northern Gallery for Contemporary Art in Sunderland later this year."
-Emily Richardson
.: Biography
Emily Richardson received an MFA in Filmmaking from San Francisco Art Institute and now lives and works in London. Her films are distributed by LUX and have been shown in galleries and at festivals internationally including Tate Britain, Cafe Gallery Projects, London , Artist's Space, New York and Edinburgh, London, Rotterdam and New York film festivals.
A book of her work, Time Frames, is published by Stour Valley Arts, distributed by Cornerhouse, Manchester.
www.emilyrichardson.org.uk
.: Selected Exhibitions
2006
- Artcite, Media City 12, Winsdor, Ontario, Canada
2005
-Cafe Gallery Projects, London. REAP, curated by Anne Bean
-Dunkerque Museum of Fine Arts, Les Merveilles du Monde, curated by Peter Fillingham
-Rotterdam Architectural Biennale, Netherlands. 6000 miles
-The Lighthouse Museum, Glasgow. 6000 miles
2004
-Whitechapel Art Gallery, London. Time Frames book launch, screening of Aspect
-Film Museum, Vienna. View Points, curated by Andrea Pollach
-Stills ScreenLab, Edinburgh. Drift, curated by Iliyana Nedkova
-Stour Valley Arts, Kent. Open-air screening of Aspect in Kings Wood
-Hotel Bellville, London. Straight-to-video, curated by Russell Martin, Robin Kirsten
2003
-Tate Britain, London. A Century of Artists Film in Britain, curated by David Curtis
-Sprite Musketeer mobile gallery, Manchester and the North West of England
-Mobile Cinema, The Lighthouse Museum of Architecture and Design, Glasgow
2002
-Switchspace, Glasgow. Group show curated by Sorcha Dallas
-Gate, A live film event on Dartmoor with Spacex Gallery, Exeter
-The Crypt, St Pancras Church, London Lights On, A Measure Arts show
-Artistˆs Space, New York. Demonclownmonkey, curated by Matthew Ritchie.
-The Southport Sea Museum, New York. The Tugboat Film and Video Series
2001
-Cleveland Centre for Contemporary Art, Achieving Failure: Gym Culture 2000 curated by Bill Arning.
-Thread Waxing Space , New York, Achieving Failure: Gym Culture 2000
.: Film Festivals / Screenings
2006
- Interval (2), Cine Lumiere, London
- Lost in Space: Topographies, Geographies, Ecologies Conference, Canterbury.
- Rotterdam International Film Festival
- Clermont Ferrand Film Festival, France
- Images Festival, Toronto
2005
-London Film Festival Tour, Experimenta. UK tour including ICA, London, FACT, Liverpool, Arnolfini, Bristol, Side Cinema, Newcastle and Edinburgh Filmhouse.
-Seoul Experimental Film And Video Festival, Korea
-Cinematexas, USA
-Sonar, Experimental music and film, Barcelona, Spain
-European Media Art Featival, Osnabruck, Germany
-Ann Arbour Film Festival, USA (honourable mention)
-Hong Kong Film Festival
2004
-London Film Festival, National Film Theatre, London
-New York Film Festival, Walter Reade Theatre, New York
-Kill Your Timid Notion, Dundee Contemporary Art, Experimental film and music festival
2003
-Edinburgh Film Festival, Black Box Activity selected by Shane Danielsen
-New York Video Festival, Walter Reade Theatre, New York
-Museum of Garden History, London. Exhumed, a program of films curated by Peter Todd
-Rotterdam International Film Festival, The Netherlands
-Split Film Festival, Croatia
-Mead Gallery, Coventry. Curated by Guy Sherwin
-Commonwealth Film Festival, Cornerhouse, Manchester
-Impakt Festival, Utrecht
-Lux Open, Royal College of Art, London.
-Images Festival, Toronto
2002
-Cinema des Differents, Paris
-Panorama, Impakt festival highlights touring program
-Impakt Festival, Utrecht. Panorama program
-Centre for Contemporary Art, Vilius,Lithuania. Curated by Mark Webber and David Ellis
-Underground Overhead, The Lux, London. Curated by Vicky Smith
-European Media Art Festival, Osnabruck, Germany
-Light Readings, a program of artist's films at Black Box, Dusseldorf; The Arnolfini Gallery, Bristol and The Riverside, London.Curated by Peter Todd
2001
-Tate Modern, Housing Problems, a program of artist's films and videos for Architecture Week
-The Royal College, London. Rolling Stock, Curated by Guy Sherwin
-Robert Beck Memorial Cinema, New York
-The Lux Cinema, London. Loud Lens, Curated by Jemma Burns
-Carlton Arts Festival, San Paulo, Brazil
-The Collective Gallery, Edinburgh. Curated by Emma Hedditch.
-Pandemonium Biennial of Moving Images,Strange Attachments. Curated by Nicky Hamlyn, The Lux Centre, London
.: Awards / Residencies
2005
-Awards for All Lottery Grant
2004
-Arts Council Grants to Artists Award
2003
-Film London, Artists Film and Video Award
-Stour Valley Arts, Residency 2003-2004
2002
-London Arts, Visual Artists grant
-British Council Artist's Grant for exhibition at Artist's Space, New York
2000
-British Council Artist's Grant for exhibition,Thread Waxing Space, New York
1999
-Lademoen Kunstnerversteder International Guest Studio,
Trondheim, Norway 1998
-London Film and Video Development Agency. Exhibition funding for 'Just Coping'
-Virgin Atlantic. Sponsorship: return flights from New York for performers involved in 'Just Coping'
1995
-San Francisco Art Institute International Student Grant.
-Kodak Eastman Film Award
1994
-San Francisco Art Institute Fellowship
.: Publications
2005
-6000 miles. Exhibition Catalogue. Published by The Lighthouse Museum, Glasgow
2004
-Time Frames. Emily Richardson. Published by Stour Valley Arts. Distributed by Cornerhouse, Manchester
.: Education
1994-96
-San Francisco Art Institute, CA. MFA Filmmaking
1990-93
-Middlesex University, London. BA(Hons) Fine Art.
1992
-Cooper Union School of Art, New York. Exchange program