Manuel Saiz (ES/UK) / "Trascendence of Networks"
2006 - 10:00, 13:00, 10:00 min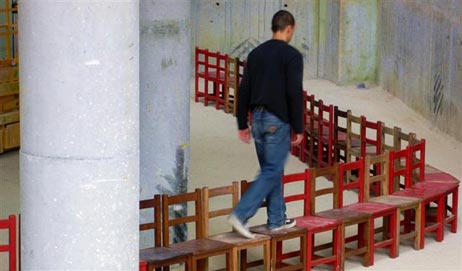 .: Statement
The Transcendence of Networks is a series, three works addressing themes of consumption and solitude in contemporary artificial deserts.
In A Life (Numazu) a woman goes through a supermarket and carefully places products back onto the shelves.
In A Life (Utrecht) a woman carrying all kinds of food products hanging around her body wanders indolently through an empty office building. During her drift she consumes the products until there is no one left.
In A Life (Santiago) a man moves around a deserted industrial landscape by walking over chairs that he moves in a row to "discover" new spaces.
.: Biography
Manuel Saiz is a London based visual artist and independent curator. Since the middle eighties he has been showing sculptures, photographic prints and videos in art galleries and museums worldwide. Since 1995 he works mainly in video and video installations. His productions have been shown in many art film and video festivals, as Impakt (Utrecht), VideoLisboa (Lisbon), Videoex (Zurich), Int. Kurz Film Fest. (Hamburg), Transmediale (Berlin), etc. His video installations have been shown in commercial galleries and museums worldwide. Recent shows include Specialized Technicians Required at Moriarty Gallery (Madrid), Nominal Politics at T1+2 Space (London) and the group shows East End Academy at Whitechapel (London) and Save the Day at Kunstbuero (Vienna).
As a founder member of TheVideoArtFoundation in 2003 he directed 25hrs (www.25hrs.org), a screening showing a selection of 300 international video art works that made up a complete panorama of video art creation since 1990. Other projects being developed at the moment are videoDictionary (www.videodictionary.org) and artDVDbook (www.artdvdbook.com).
.: Selected Exhibitions
Recent personal shows
2006
Transcendence of Networks Galeria Trinta, Santiago de Compostela (Spain)
2005
A New Chance for Symbolic Dimension Alma Enterprises Gallery (London)
Se requieren técnicos especializados (Specialized Technicians Required) Galeria Moriarty (Madrid)
2004
NOMINAL_POLITICS T1+2 Artspace London
2003
If Alive Museu de l'Emporda, Figueres, Girona, Spain.
2002
Mind Your Own Business About advertising at Galeria Trinta, Santiago. Spain.
Upwards Compatible, Galeria Metronom Barcelona (Spain)
Group Exhibitions
2005
Save The Day Kunstbuero, Vienna, Austria
Monitoring. Kasseller Dokumentfest, Kassel Germany
Emergency2 Aspex Gallery, Portsmouth (UK)
2004
Land at Alma Enterprises Alma Enterprises Projects Space, London
East End Academy Whitechapel Gallery, London
Coalesce: foro Galería Palma XII. Vilafranca. Barcelona
2003
We Are Not Afraid VTO Gallery, London
Random-ize, Taipei, Taiwan
2002
Iberian Tribes Tribes Gallery New York City
Partially Bent Mafuji Gallery London
Tell Me M&M Gallery, Bornem (Belgium)