Kinda Hassan (LB) / "Yet another shot" - 2005 - 5:03 min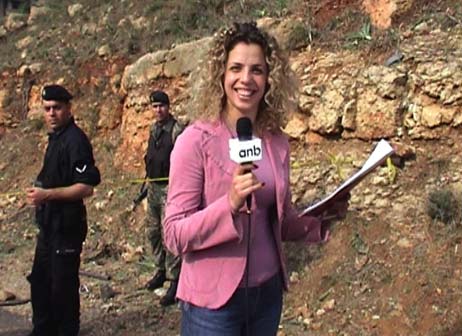 .: Statement
"Yet Another Shot is a video made the day Jubran Tueiny, Lebanese parliamentarian and journalist, was murdered. It shows images of TV reporters informing the sad event, filmed on the explosion site. The video highlights the instantaneous adjustment of the Lebanese blunt society facing serious moral catastrophes.
The idea of the video is to show a dramatic event by by-passing it, and focusing on a parallel event that metaphorically describes it. Seeing the event from the point of view of TV reporters trying to communicate a drama, that can't seem less dramatic to them, tells us a lot about how the society would react to such an event. As I was leaving the explosion site I had a conversation with the driver I was with; he was "happy" seeing no traffic on the roads; this inspired him the following statement: "Look, there's no traffic on the roads, I wish they would murder one every day for us!"
A murder in Lebanon today can get as quotidian as driving one's car to work. I thought that by showing this bluntness from one side, and the repetition and failures of reporters from the other side, I could transmit a message to a public who is too familiar to catastrophes the way Media represent them.
How many times do we have to witness the repetition of this endless scene?
When will disasters become real disasters? Aren't there any maladjusted people out there?"
- Kinda Hassan
.: Biography
Kinda Hassan was born in 1984 in Beirut, Lebanon. She's currently applied in the Lebanese Academy of Fine Arts (ALBA), Master studies.
In September 2005, after she got her bachelor degree, she started teaching fine arts to secondary classes in Camel Saint Joseph School, Mechref – Lebanon.
She's also currently applied in a Masters module on Art, Design and Technology in the Arab States, program organized by UNESCO digi-arts. She has participated so far in a few workshops, one of which was organized by Saint-Esprit University of Kaslik (USEK), with the collaboration of Mr. Miha Vipotnik: A collective video installation was exhibited in Azariyyé center; and another workshop organized by ALBA and "La Seine" (ENSBA), where each participant had his work exhibited under the theme of "Bordures-Brodures" in ALBA.
Her art work evolves around the meeting of art and science, making use of the new media, electronic and digital technologies.
.: Selected exhibitions
June 2006, live multimedia performance at "art lounge", Beirut, Lebanon, intitled "when I was an alian cultures weren't opinions", in collaboration with artists Lena Merhej and Randa Mirza
February 2006, screening of the video "Yet another shot" during the "Festival International de Film Video et Creation", Empire Sofil, Beirut, Lebanon
September 2005, group exhibition at ALBA, Beirut, Lebanon, in collaboration with "La Seine" (ENSBA), under the sponsorship of Tony Brown
October 2005, screening of the video "Hold up your Skirts" at "Backstage", Beirut, Lebanon.
July 2005, collective work: video installation, under the sponsorship of video artist Miha Vipotnik, exhibited in Azariyyeh Center, Beirut, Lebanon