Sukran Moral (TR/IT) / "Leyla and Mecnun" - 2006 - 19:34 min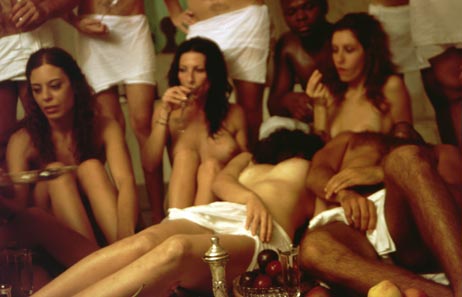 .: Statement
"Leyla and Mecnun" is based on an Arabian legend, which is set in the desert. Moral's actualised version is set in a Turkish bath in Palermo. The first video dealing with this theme was "Hamam", which was realised in 1997 for the 5th Istanbul Biennial. In this occasion she showed for the first time to the contemporary art scene the secret world of the Turkish bath. She entered the men's hall of the Galatasaray Hamami in Istanbul and was washed and massaged by a man: an unthinkable violation which provoked a scandal.
In 2005 was conceived the second video set in a Turkish bath, "Leyla and Mecnun". The legend tells about an impossible love story of two young persons, she is Muslim and he is Christian, which die for love. Today young people do not die because of love anymore, but because of drugs. Leyla and Mecnun in the revisited version by Moral die on overdose.
.: Biography
Sukran Moral was born in Terme (TR). Since the biginning of the 90's she has been living between Rome, where she has completed her education, and Istanbul. As a conceptual artist she criticises the art system and any limitation of the individual freedom. She has realised performances, video and art works in which the person has a central role. She has taken part in numerous international events in which she has distinguished herself for the critical energy of her proposals, always against every pre-constituted value.
.: Selected exhibitions
1997, 5th Istanbul Biennale, "Speculum&Istanbul", video installation and performance
1998, World Video Festival, Stedeljick Museum, Amsterdam
2002, participation in the 21st International GAY & Lesbian Film Festival, Turin as juror and author
2004, performance at the "Museo Laboratorio di Arte Contemporanea Apocalypse", curated by Simonetta Lux and Domenico Scudero
2005, video exhibition at Galleria Macka Sanat, curated by Simonetta Lux and Domenico Scudero
2006, group exhibition, "La Donna Oggetto", curated by Luca Beatrice, Vigevano