Edgar Endress (CL) / "Indocumentado/Undocumented"
2005 - 10 min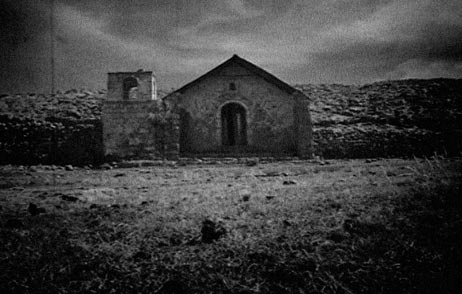 .: Statement
An illegal, undocumented immigrant from Peru was shot on the border with Chile. Based on the media reports, I recreated the story of Jose Rubio—the undocumented.
"Undocumented" is the story of a subject who illegally crossed the border between Peru and Chile. This man was shot and killed by a Chilean soldier while he was walking near milestone number one in the Atacama desert. This incident resurfaces the historical tension between Chile and Peru. It also portrays a contemporary trend in this part of the region, a growing flux of immigrants from Peru to Chile.
This piece is about the reconstruction of the life of the undocumented subject, which I re-created by collaging different news clips from both countries. This unknown subject personified a figure that struggled inside the fundamental elements that compose the Latin-American social fabric. It incarnates the body that must be controlled by the two dominant superpowers in this social fabric, religion and militarism. The effects of this control resulted in madness and death.
-Edgar Ebdress
.: Biography and selected exhibitions
b. 1970, Osorno - Chile
Edgar Endress was born November 4, 1970, in Osorno, Chile. In 1989 he started his education by studying economics in the Universidad Tecnologica Metropolitana, in Santiago Chile. In 1994, he shifted to study of the audiovisual at the Institute of the Art of Communication (ARCOS) in Santiago Chile, graduating with the equivalent of a B.F.A. in 1998. In 1999 he was awarded a fellowship from Syracuse University, Syracuse, New York to pursue a Master in Fine Arts with a concentration in Art Video. He graduated with his M.F.A. in 2001.
During the 1990s, Endress worked at the Video and Electronic Art Biennial of Santiago, where he worked closely with the Biennial director, art and video theorist Nestor Olhagaray. In 1995 his initial productions were shown in Chilean and international contexts, and he traveled as a representative of the biennial of Santiago to establish relations with other video events in Latino America.
From 1996 to 2001 he received various awards from video festivals, such as Third Prize Experimental Category for "Elvis Hates America" at the Athens Film and Video Festival, Athens OH, USA (2001), Best Student Video for "Communicating-Communitas" "BF/VF's 26th Annual New England Film and Video Festival, Boston MA (2001), Jury Award for "Anonymous" III Biennial of Video and Electronic Art, Santiago Chile (1999), Second Prize in the Experimental Category for "Anonymous" Next Frame, Philadelphia, PA (1999), First Prize in Documentary Video for "Wanglen or the New Fertility" II Video and Electronic Art Biennial of Santiago, Chile (1997), and 1996 Prize in Originality and Creativity for "Transutero" Festival of Film and Video, Valdivia, Chile. In 2001 Endress received the Grand Marnier Foundation Film Fellowship, at Lincoln Center, NY, for the best graduate student video of 2001 in a national competition.
In 2001-2002 he lived in St. John, U.S. Virgin Islands where he began working on Bon Dieu Bon, a multimedia immigration project. In summer 2002 he had an artist residency at C.I.C.V.,
Herimoncourt, France to work on a collaborative video about Patagonia. In 2003 he received a grant from Fondart, Santiago, Chile for the Bon Dieu Bon installation project. He began teaching at Mercer County Community College in 2003 and took a sabbatical in 2004 for an artist residency at Akademie Solitude, Stuttgart, Germany. He has received a fellowship to co-organize an Arts and Sciences symposium at Akademie Solitude focusing on Memory and Migration in summer 2005. In 2005 Endress received a grant from Creative Capital for a collaborative project about Haitian migration. He became an assistant professor at George Mason University in Fall 2005. In 2006 he was a collaborative grant recipient for a project about migration in the U.S. Virgin Islands and the transfer of the islands from the Danish to the U.S.
Among Endress's numerous exhibitions since 1997 are the Museum of Modern Art, Buenos Aires, Argentina; Contemporary Arts Museum of Cartagena, Colombia; Annual New England Film and Video Festival, Boston Fine Arts Museum; 20 World Wide Video Festival, Amsterdam The Netherlands; IFA gallery, group show "Nueva Vista", Bonn, Stuttgart, Berlin, Germany; The New York Video Festival, the Walter Reade Theater, Film Society of Lincoln Center, NYC; One World International Human Rights Film Festival, Prague-Czech Republic; Film and Video Documentary Festival of Kasseler, Kassel-Germany; Brno16, International Film and Video festival, Brno, Czech Republic, 14 International Art Electronic Festival of Videobrasil, Sao Paulo-Brasil; 14th Annual Dallas Video Festival, Dallas, TX; Museo Nacional Centro de Arte Reina Sofía, Madrid.