Antonella Kurzen (CH/DE) / "Pendule" - 2006 - 2 min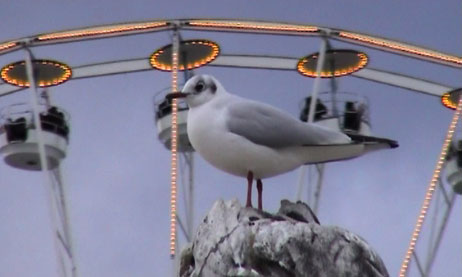 .: Statement
The antropocentric view left us with a history of criminal images as the western thinking did with criminal acts. Today it is possible to kill on the earth's crust.
The investigations on the image and the visual images could develop on a completely different direction, they could be interpretations of another temporality for the world where the time of animals and its difference would be included.
In the videos of Antonella Kurzen one can find referents of this kind.
In the videos of the Swiss artist, the questions on reference or origin are poetically suspended; new possibilities of interpreting a landscape, the conducts in a shared cosmos and an extended temporality affirm themselves.
In PENDULE, Kurzen traps an animal conduct: as if in shifts, birds relay one another on top of a sculpture. The viewer does not know why.
A luna park big wheel is shown as the background of the birds' relay. Together, birds and wheel seem the hands of a clock showing time, though, in an eccentric way. It is an image seemingly belonging to a time lost in thought or leading us to this idea of science about the reversibility of time.

.: Biography
Antonella Kurzen was born in Switzerland in 1966. She started to study arts in the US and kept on in Switzerland, Italy and Germany. She immediately focused her attention on the cinematographic branch. After 1998, she works as a free-lancer and, after 2002, as a director too.
Her videos are elaborations of those psychological conditions determined by natural places, transformed according to the intentions, in rarefied spaces.