Flavio Bonetti (IT)
Credo solo nel 1996 (I only believe in 1996), 2006
10:00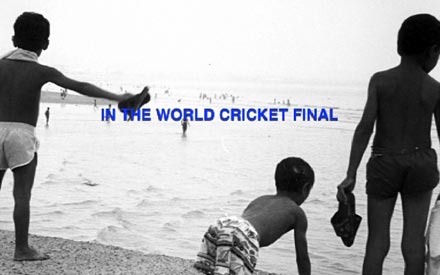 It's a 3 tempo audio-video example on how to construct inexpensive certainties.

Biography
Born 1956 in Brescia, he lives and works in Milan. Since 1985 he has been collaborating with Italian and European magazines (Vogue, Io Donna, Corriere della Sera, etc.) . In 1996 he won the first prize at the Independent Italian Cinema in Bellaria for the documentary Normal about the modernity of the Shoa.
Selected Exhibitions
2006
Natural History, Galleria Monica De Cardenas, Milan, Italy
ART BASEL 37, Basel, Switzerland
Armory Show, New York, US
Arte Fiera, Bologna, Italy
Artgames. Analogies between art and games, Ludwig Forum für Internationale Kunst, Aachen, Germany
Royal Wedding Expanded, Console, Paris, France
Shumen Biennial, Bulgaria
Beautiful Nature, Castel San Pietro Terme, Bologna, Italy
2005
Conflitto e conflitti, Villa Serena, Bologna, Italy
Erika, Sottopasso, Livorno, Italy
The ectasy of things, Museum of Contemporary Photography, Villa Ghirlanda, Cinisello Balsamo, Milan, Italy
The Italian Look. The Italian Photographs of stile from 1951 to today, Rotonda della Besana, Milan, National Museum of Art, Rome, Italy
FIAC, Paris, France
2004
The Big Dipper, Migration In Three Pictures, Galleria Monica De Cardenas, Milan, Italy
11 Fotografi 1 vino, Museum of Triennial, Milan, Italy
Trash-Impressions of the environment, Porto antico, Genoa, Italy
Still life. The dead nature in photography, Museum of Contemporary Photography Ken Damy, Brescia, Italy
2000
Torino Film Festival, documentary Geografy, Balkan surveying on the nature of the song, Turin, Italy
1987
Museo Rufino Tamayo Arte Contemporanea, Mexico City, Mexico