Marinella Senatore (IT)
16° CENTIGRADES, 2007
12:00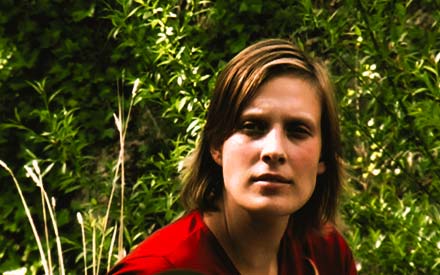 In different contexts and locations six characters tell about themselves through a fragmented narration. In the meanwhile a strong storm is arriving bringing transformations. The casualty, the rhythm and the coincidences blend one into the other, just for a moment, and the auto-reflective narrations turn into a song.
Biography
Born 1977 in Cava dei Tirreni, Marinella Senatore lives and works between Madrid and Rome. She works with film and video and teaches script and video at the Universidad de Castilla-La Mancha (ES). Her installations and films have been shown in galleries, museums and institutions in Italy and abroad.
She has been assistant of Giuseppe Rotunno at the Centro Sperimentale di Cinematografia in Rome. Since 1990 she has been working as a director of photography.
In the last years she has been working also on film production. In her creative and productive process she involves whole communities, for example her last feature film "Horizontes de sucesos" was produced in 2000 by 900 citizens of Cuenca in Spain.
Education
1999-2002 Centro Sperimentale di Cinematografia (Film National School), Rome, Italy
1998 BA Accademia di Belle Arti, Naples, Italy
2006 Degree in Fine Art, University of Castilla La Mancha, Spain
2006/07 MA en Producción Artistica, Universidad Politecnica de Valencia, Spain
Solo Shows
* exhibition catalogue
2007
MARINELLA SENATORE, curated by G.Del Vecchio, S.Palumbo, MADRE - MUSEO D'ARTE DONNA REGINA, Naples
MARINELLA SENATORE, Fundaciòn A. Pèrez, Cuenca *
2006
ALL THE THINGS I NEED, curated by I. Gianni, Fondazione Adriano Olivetti, Rome*
2004
CASTILIA, Monitor Gallery, Rome
2003
MARINELLA SENATORE, T293 Gallery, Naples
Group Shows
2007
DON'T CALL IT PERFORMANCE , curated by P. Barragan, Miami Dade College, Miami
ART RADIO LIVE, a project of PS.1 MoMA, PAN, Perna Foundation, Venice, curated by Laura Barreca, J.Curator PAN
GUESTROOM, curated by P.Pulles , Museum Boijmans Van Beuningen, Rotterdam
VESUVIUS, curated by G.Del Vecchio, Moderna Museet Biografen, Stockholm
COLLETTIVA, curated by M.Tolomeo, Palazzo delle Esposizioni, Rome
2006
NEVERENDING CINEMA, Galleria Civica d'Arte Contemporanea, Trento
TRACCE DI UN SEMINARIO, Corso Superiore di Arte Visiva, curated by R. Pinto, A. Daneri, Assab One, Milan *
VESUVIUS, curated by G. Del Vecchio, 798 Space, Pechino *
THE CLOUDED EYE, curated by A. Flamini, Society for Contemporary Photography, Kansas City
HOPES & DRAGONFLIES, Monitor Gallery, Rome
MODERN TIMES v.1, curated by M. Sossai, MAN, Nuoro
2005
LOOP, curated by L. Benedetti, F.Stocchi, Angelo Mai, Rome
L'ESTETICA DELLA RESISTENZA, Ex-Ticosa, Fondazione Antonio Ratti, Como *
THIN LINE 4, a cura di M. Farronato, ViaFarini, Milan
LONG TIME TRAPHÒ, a cura di E.Bircsak and M.Farronato, Budapest
VIDEODROME, a cura di M.Chini, Firenze
NON CI SEI SOLO TU, curated by F. Naldi, Galleria Comunale Castel S.Pietro Terme *
THE 2nd INTERNATIONAL VIDEO-ART BIENNAL IN ISRAEL, curated by C.Perrella, Tel Aviv *
VIDEO IT, a cura di E.Volpato, M.Gorni, Turin
FUORIUSO'04/STORYTELLING, curated by L.Beatrice, Pescara *
ON AIR, curated by A.Bruciati, A.Crippa, Galleria Comunale d'Arte Contemporanea, Monfalcone *
OUR PERSONAL VISION, curated by P.Capata, Futura, Prague
2003
QUADRIENNALE D'ARTE/ANTEPRIMA NAPOLI, Palazzo Reale, Naples *
COLLAUDI, curated by M.Altavilla, D.Lotta, GAM/Spazio Aperto, Bologna *
PLAY, curated by L.Aiello, Care Of, Milan
2002
SPACE IS THE PLACE 01, curated by M.Altavilla, T.P.O., Bologna
2001
BIENNIAL YOUNG ARTIST OF THE EUROPE AND MEDITERRANEAN, Sarajevo *
Video Screening
PesaroFilmFestival 2007 *
Complici Le Immagini, curated by M. Sossai, Miart, Milan 2007 *
Videopassage, curated by M. Sossai, Milan 2006
Fair Play, Salerno 2006 *
Videozone 2, curated by C. Perrella, The British School, Rome 2005
Our nature, Bologna 2005
VIPER BASEL 2004 *
TTV Festival, curated by M.Altavilla Bologna 2004
Unimovie '04, Pescara *
Italiani indipendenti, Trento 2004
Arcipelago 11^ed., Rome 2004 *
Shortvillage, Milan-Rome-Pisa 2004
20. Kasseler dokumentarfilm und videofest, Kassel 2003 *
58^ed.mostra d'arte cinematografica di venezia, Venezia 2001
Cortocircuito, Naples 1998 *
Residencies
2005 Corso Superiore di Arte Visiva 2005, Fondazione Ratti, Como, Italy
2006 Neverending Cinema, curated by ZimmerFrei. ALL THE THINGS I NEED (Dvcam, st. Col, 16':58'') produced by Galleria Civica of Trento, Italy
Art Fairs
2007
Liste 07, Basel
Miart, Milan
2006
Liste 06, Basel
Artissima 13.ArtFair, Turin
2005
Artissima 12.ArtFair, Turin
2004
Arte Fiera.Art First, Bologna
Flash Art fair 1^ed., Milan