Zapruder (IT)
Morning Smile, 2005
30:00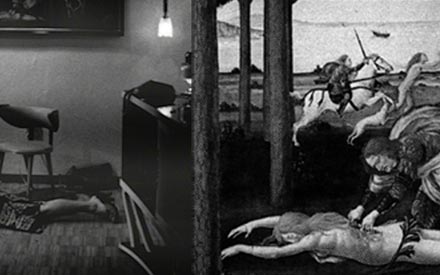 "Morning Smile" was inpired by Georges Bataille's episode "Dirty" and it's closely connected to the Decameron's 8th tale, 5th day.
Bataille's heroine, Dirty, and the young lady hunted down by two dogs and a knight, painted by Botticelli.
The narrative structure of the film plays on the association process between two different but concomitant situations.
Set in the same room, the tales will develop in parallel, clashing and interweaving one with the other.
In the four paintings by Botticelli "Storia di Nastagio degli Onesti" is represented a frightful, macabre scene from a tale by Boccaccio set in a pine-wood, near Ravenna. The paintings were commissioned for a nuptial room. Queer wedding-gift!
For the Lovers, Dirty and Troppmann, the "same room" at the Savoy Hotel is reserved.
As upshot of the night spent together, Dirty and Troppmann find themeselves in the Savoy hotel room. Dirty is in a drunken state, she speaks as a drunk and talks a lot of nonsense.
Alcohol dull her mind and rouse fear, "fear makes everybody correct" says Dirty and she wet herself. Troppmann is the witness of the young lady agony.
The hotel room "reserved" for the two lovers is not a sheltered, cosy place, it's an open place, it lets an another story, another room come in: the nuptial room for which were commissioned to Botticelli the four pictures representing an hunting scene where a young lady is the prey. The paintings evoke the fear of damnation.
ZAPRUDER filmmakers group
Filmmakers group composed by David Zamagni (born in Rimini in 1971), Nadia Ranocchi (born in Rimini in 1973) and Monaldo Moretti (born inRecanati in 1972). the group lives and works in Roncofreddo (FC). The name comes from the affection for the amateur filmmaker Abraham Zapruder, who recorded the famous images of Kennedy's murder (Dallas 1963).
Morning Smile's major screenings
Nov. 2005 11th BIM biennal of mouving images Geneva (CH)
May 2006 Riccione TTV Festival (Performing arts on screen) Bologna (I)
1st award "for the radicals linguistic choices of the work"
May 2006 Wien indipendent film festival (A)
July 2006 Int. film festival of Drama (GR)
Sep. 2006 Circuito off Int. Film fest. (Venice Italy)
Sep. 2006 Milano Int. film fest. (Milan, Italy)
Nov. 2006 Rencontres Internationales Paris-Berlin (Paris, France)
Dec. 2006 Curtacinema Int. film fest. (Rio de Janeiro, Brazil)
Dec. 2006 Imola film festival (Imola, Italy)
June 2007 Circulo de Bellas Artes Madrid (Spain)/ Rencontres Internationales Paris-Berlin
June 2007 Babylon Movie Theater Berlin (Germany)/ Rencontres Internationales Paris-Berlin