Kelly Warman & Tobias Laukemper (NL/DE)
ProgRock, 2006
5:17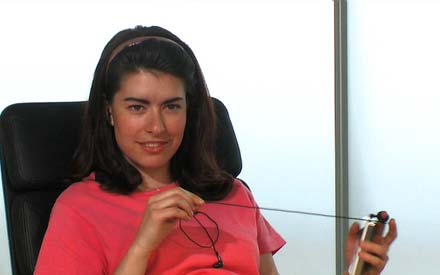 We enter into a foxtrot world of easy jazz and up beat Modernist tempo colours. Utopian architecture slides from one function to another; the office, the home, the exhibition. As viewer you dip a little toe from production to culture, from the Modernist to post characterisations. Two people feature that never meet, they share an incongruous relationship, both with a belief in grand statements, pretentious ponderings and questionable promises it is here we find they are joined. Each side of the coin is represented, neither stick nor can be committed to one ideological force. The binaries bleed. The film runs the length of a commercial pop song; it advertises a dubious promise, an idealistic and critical stance. What if the promises of Modernism where true we ask ourselves, are they not and why are they not?
"They set out in the collaborative project working apart together, this road develops into an ambitious project continuosly generated by a dynamic synergy of arguing, questioning, negotiating, refusing to settle for anything less than beyond satisfactory.
The position of the artist, the artistic production process, the presentation to a public, and how reflection on practice can be incorporated in the acting out of this practice, all this is addressed very seriously, but with a very healthy and necessary self-mockery. Contemporary institutions are wryly considered: the gallery, the media, the creative industry, discourse, are all researched and reflected upon in the context the ´larger´ topics of modernism, postmodernism and utopia, engaged in what Laukemper and Warman call the disco of contradictory perspectives. With ProgRock they move out into the public realm, adequately using the possibilities the city of
Rotterdam is giving them. The locations of Museum Boijmans Van Beuningen, Van Nelle Factory and Villa Sonneveld, as prominent icons of the last century, become the sets in their short film. The sets move between the home, the office and the archive, all representing a recent past that is still quite alive, though appropriated through the market, commodified to give access for all."
[Liesbeth Bik, 2006]
Kelly Warman (UK/NL)
Born in 1979 in London, based in Rotterdam.
Education
2004-2006 Piet Zwart Institute Rotterdam, MA Fine Art, NL
1999-2002 Dartington College of Arts, Faculty of Visual Arts, BA Hons Fine Art, UK
1998-1999 Chelsea School of Art London Institute, Faculty of Applied Arts, UK
Additional Education
2005 The Production of Public and Private Spheres workshop, with Babak Afrassiabi and Nasrin
Tabatabai, Piet Zwart Institute, Rotterdam, NL
The Metropolitan Complex, with Sarah Pierce, Interface University of Ulster, Belfast
2004 DIY 2: The Network workshop, with Richard Layzelle, Toynbee Studios, Live Art
Development Agency, London, UK
Grants, awards and residencies
2005 Nuffic Scholarship, the Netherlands State Secretary for Education, Culture and Science, NL
2003 The Arts Council of England, Production Grant, UK
2001 Dartington College of Arts, Faculty of Visual Arts, Scholarship, UK
The British Arts Council, National Review of Live Art Commission, UK
Heathrow Airport, Public Art Residency, Dartington College of Arts, UK
Collaborative Exhibitions with Tobias Laukemper
2008 Opposite Attracts, De Veemvloer, Curated by Christine Sluysmans, Amsterdam, NL
2007 De Salon, Maartje Berendson Galerie, Curated by Maartje Berendson and Tamar de Kemp,
Rotterdam, NL
Normal Desires, Room 103, Auckland, NZ
2006 3. Berliner Kunst Salon, Asim Chughtai Gallery, Berlin, DE
Wherein Certain Persons, TENT Centre for Visual Art, Rotterdam, NL
ProgRock screening, with Tobias Laukemper, Boijmans van Beunigen Auditorium,
Rotterdam, NL
2005 The B-Group, Salle Demain Gallery, Rotterdam, NL
Group Exhibitions
2005 Popular Art, Nerhu Centre for Contemporary Art, Curated by Caspar Below and Parvathi
Nayar, London, UK
2004 Counter Measure, Florence Arts Trust Gallery, Curated by Kevin Quigley and John Ford,
London, UK
2002 Contexture, Dartington College of Arts, Curated by Roddy Hunter, Totnes, UK
2001 London International Festival of Theatre, OMSK Event, HMS President, programmed by
Steven Eastwood, London, UK
OMSK Event, Arcola Theatre, programmed by Steven Eastwood and Jo Cripps, London, UK
EATOMSK Event, with Steven Eastwood, Toynbee Hall, London, UK
SMOK, The Approach Gallery, Curated by Steven Eastwood, London, UK
1999 PILS Emerging Artist Award, Lux Cinema, programmed by Phillip Ilson, London, UK
Solo Exhibitions
2002 Sleeping Lines, solo exhibition, Dartington Gallery, Totnes, UK
Not At All screening, with Naomi Corrin, The Barn Cinema, Totnes, UK
2001 Dress You Up, solo exhibition, Catalyst Platform Gallery, Belfast, NI
I Kiss the Ground, solo exhibition, Dartington College of Arts, Totnes, UK
Presentations and Performances
2007 OMSK book, book launch, South London Gallery, London, UK
2006 Black Friday, book presentation, with talks by Jan Verwoert and Christoph Keller, screening
of Mondo Veneziano by Antoine Prum, TENT auditorium Centre for Visual Art, Rotterdam,
NL
2001 Speakers Box, public performance, Heathrow Airport, London, UK
2000 Dress You Up, book presentation, Scope Charity Shop, Totnes, UK
Tobias Laukemper (DE)
Born in 1970 in Düsseldorf, based in Berlin.
Education
2004-2006 Piet Zwart Institute Rotterdam, MA Fine Art, NL
1997-2004 Diploma Fine Arts, Professor Astrid Klein, Professor Beatrice von Bismarck,
Hochschule für Grafik und Buchkunst, Academy of Visual Arts, Leipzig, DE
Additional Education
2005 The Metropolitan Complex, workshop with Sarah Pierce,
Interface Belfast NI, Piet Zwart Institute Rotterdam, NL
The Production of Public and Private Spheres workshop,
with Babak Afrassiabi and Nasrin Tabatabai, Piet Zwart Institute, Rotterdam, NL
2002 Sculpture Class, Professor Bogomir Ecker,
Hochschule der Bildenden Künste Braunschweig, DE
Selected Group Exhibitions
2007 Legal Tender, Kasa Gallery, Istanbul, TK
2005 Cargnelli & Dick, Laukemper, Pernice, Gallery Fleisch, Berlin, DE
Die Lakonie, 2. Berliner Kunstsalon Gallery Fleisch, Berlin, DE
Me, myself and I, Gutleut15, Frankfurt aM, DE, Glue, Berlin, DE,
Konsortium, Düsseldorf, DE, Hobbyshop, Munich, DE, ARTI, Amsterdam, NL
The B-Group, Salle Demain, Rotterdam, NL
2004 Stars ´n´ Stipes, HGB Leipzig, Academy of Visual Arts, DE
LICHT!, 1. Berliner Kunstsalon, Berlin DE, Glue, Berlin, DE
Stealth, HGB Leipzig, Academy of Visual Arts, Leipzig, DE
2002 Falsche Freunde, concept & realization group show, Gallery Barrak, Berlin, DE
2001 Präfix, HGB Leipzig, Academy of Visual Arts, Leipzig, DE
1999 Translation, Kunstförderpreis Stadtwerke, Halle/ Saale, DE
1998 Klimatisiert, HGB Leipzig, Academy of Visual Arts, Leipzig, DE
1997 Stadtteilen, Gallery Subraum, Berlin, DE
1995 Imperial Wardrobe, performance with Richard Crow and Nick Couldry,
Homegallery Thomas Brus, Berlin, DE