Invernomuto & Moira Ricci (IT)
Bissera, 2006/2007
30:00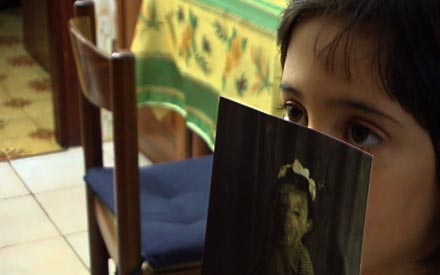 Bissera (or recovery ritual, from the dictionary of popular witchcraft) is the story of a family, seen through the eyes of a little girl, who discovers the true past through a series of meetings. The gestural dimension of popular magic, the panoramic loss and discovery of small tales through which manifest bizarre revelations, turning this work into a running tale between fiction and the language of documentary, with experimental interstices. The
meeting between Invernomuto and Moira Ricci - to whom the festival Netmage has also commissioned its corporate image for 2007 - is a welding of fictions from obsessions and the depths of the culture of human territory where Moira Ricci was born (the Grosseto area, its traditions and worlds) and Invernomuto's representation of the anthropoid landscape. Netmage 07 production.
Invernomuto was formed in 2003 as a group for audiovisual experimentation from the union of Simone Bertuzzi and Simone Trabucchi, with the collaboration of Davide Barbieri for musical matters. With an accent on a mixture of languages, the group's operations are manifested in productions such as the editorial project ffwd_mag, focused on the relations between image and sound, video production, live-media performances as well as curating events and special projects. Invernomuto participates in group exhibitions and festivals
such as Italian Live Media 04 (Rome, 2004), Domus Circular (Milan, 2005), Cinema Infinito/Never Ending Cinema (Trento, 2006) Whalesland, careof (Milan, 2006).
Moira Ricci studied at the R. Bauer School of Photography and at Accademia di Brera in Milan. She works with a variety of visual languages, including photography, video and installation. At the core of her work the figure is placed in relation to itself and others, forms of storytelling between biography and staring reportage. Her compositions fold the image toward the three-dimensionality of self-irony plays and environments that include her own body, often lost in proportion to the outside world. She has participated in solo and group exhibitions including Interfuit (Artopia, Milan, 2006), Poesia in forma di rosa (Galleria Civica Monfalcone, 2005), Photocells (IIC, London, 2005), Your Private Sky (F.I.S.Co., Bologna, 2004) and Youthquake (Lima, Milan 2003).
INVERNOMUTO Prizes
2004
Wins the "Palinsesto Italia prize" partecipating with the project Risonanza
Magnetica Network. Palinsesto Italia is a national prize for innovative multimedia
and multiplatform publishing content and solutions, which take place
in Bologna, Italy, every year.
Residences
2004
The Listening Eye, Venice (Italy). June 17-20 2004. Promoted by
Domus Academy. Workshop with Christian Marclay, curator: Antonio Somaini.
2007
Corso Superiore di Arte Visive, Como (Italy). July 2-21 2007.
Visiting professor: Joan Jonas.
Productions - Videography
Landscape03 - I love livin in the city (Hi8/Dv, 6'31", 2003)
Landscape04 - anomalieux (super8/Hi8/Dv, 6'46", 2003)
Countdown in landscape experience (Dv, 10",2003)
Bullet - a short video for Youthquake (Dv, 1'03", 2004)
ffwd#1 audio-visual consultation (Dv, 15'30", 2004)
Catch me when i fall (VHSC, 12'21'', 2004)
ffwd#1 audio-visual consultation, volume 2 (Dv, 16'53", 2004)
Landscape06 – interior design (Dv, 2'08", 2004)
Landscape07 – House study B (Dv, 19'02", 2004/2005)
Catch me when i fall 2 (VHSC, 2'26", 2005)
Noises from Above – San Damiano, Italia TRAILER (DV, 2'27", 2005)
Noises from Above – San Damiano, Italia TRAILER 2 (DV, 3', 2006)
s/t – in collaborazione con Claudia Losi (DV, 8', 2006)
Vodoo – videoclip per la band OvO (DV, 3', 2006)
No Title Match, with Davide Savorani (DV, 9', 2006-2007) Productions - Live Media
Instant (live media, polaroid e camera presa diretta, 2004)
*cavities* esercizi di soggettiva (live visual, 2004)
(Sounds) Like Me in collaborazione con DDD (live media, proiezioni dia e digitale, 2004)
Landscape05 – there's no place like home (live media, 2004/2005)
Landscape08 – there's no place like home 2 (live media, 2004/2005)
ffwd_mag#3 live media (live media, 2005/2006)
Bissera (with Moira Ricci) - Netmage07 production (live media, 2006/2007)
Productions - Publications
ffwd_mag
The project aims at proposing a non-linear survey on audio-visual arts. Characteristic of ffwd_mag are the constant mutability and the refusal to adopt any identifiable graphic format. This is why each issue has to be considered as a stand-alone project/concept.
ffwd_mag - publications
December 15th 2003, ffwd_mag#1
December 15th 2003, ffwd_mag#1 + audio cd guide (ltd. edition 100 copie)
August 3rd 2004, ffwd_mag#1 RE-ISSUE
November 5th 2004, ffwd_mag#2
November 24th 2005, ffwd_mag#3
January 24th 2007, ffwd_mag#4
Special projects
April 2007, Camilla Candida Donzella Untitled, sound design. Xing Production,
F.I.S.Co. 7° Festival sullo Spettacolo Contemporaneo.
September 2006-January 2007, Bissera (in collaboration with Moira Ricci)
corporate design and live media for Netmage 07 - International live media festival, 7th edition, Bologna, 25-27 January 2007
July-September 2006, Acrobazie#2, soundtrack for Marcello Maloberti's exhibition at Ospedale Psichiatrico "Fatebenefratelli", San Colombano al Lambro (Mi)
May 2006, Wrestling Exercise Books, sound design, performance by Davide Savorani
March 2006, Whalesland, an exhibition-project by Invernomuto with Dafne Boggeri, Claudia Losi, Ericailcane, Peter Beste, OvO, C/O careof, Milan
Personal and collective exhibitions / Events and performances
January 27th 2007, Bissera, Netmage 07, Bologna - Italy
April 5th 2006, ffwd_mag#3 live media, NADA live electronics festival, Mila
March 2006, Whalesland (a project by Invernomuto with Dafne Boggeri, Claudia Losi, Ericailcane, Peter Beste, OvO), C/O careof, Milan
January 10th 2006, ffwd_mag#3 introduction, a+m bookstore, Milan
December 10th 2005, Landscape08 – there's no place like home 2, Live!Ixem festival, Mestre (VE)
November 26th 2005, ffwd_mag#3 introduction, Clan Destino, Faenza
November 24th 2005, ffwd_mag#3 introduction, RAUM, Bologna
July 9th 2005, Landscape08 – there's no place like home 2, Pandemic
festival, Montevarchi (AR)
May 30th 2005, Landscape08 – there's no place like home 2, Il Bar
dell'Amore - Premio Internazionale della Performance, Galleria Civica di
Arte Contemporanea di Trento, Trento
May 7th 2005, Landscape08 – there's no place like home 2, MiArt 2005,
Milan. Introduced within Dispositif02, curated by Dafne Boggeri, Assab One
April 14th 2005, 180° Relationship, Domus Circular, Milan – G. Meazza stadium. Event curated by Francesca Cogni and Andrea Lissoni, promoted by Domus magazine
March 12th 2005 ffwd_mag#2 introduction, Rebecca Container Gallery, Genova
February 27th 2005, ffwd_mag#2 introduction, neanche festival, Faenza
February 16th 2005, ffwd_mag#2 introduction, AB+, Turin
February 8th 2005, ffwd_mag#2 introduction, RAUM, Bologna
February 5th 2005, ffwd_mag#2 introduction, Spazio K, Prato
February 4th 2005, ffwd_mag#2 introduction, Fondazione Adriano Olivetti, Rome
January 19th 2005, ffwd_mag#2 introduction, spaziolima, Milan
December 17th 2004, ffwd_mag at Tropical Table, Santa Monica Center of Contemporary Art of Barcelona, Barcellona, Spain
November 24th 2004, There's no place like home, (photographic exhibition) Politburo Cafè, Paris, France
September 5th 2004, (Sounds) Like Me, Italian Live Media 04 festival, Acquario Romano, Rome
April 2004, ffwd_mag#1 consultation, Salon Primo – Nuovi Dipartimenti Academy of Fine Arts of Brera, Milan, in collaboration with Andrea Lissoni
April 3rd 2004, ffwd_mag#1 introduction, Rebecca Container Gallery, Genova
March 17th 2004, ffwd_mag#1 introduction, modo infoshop, Bologna
January 28th 2004, ffwd_mag#1 introduction, spaziolima, Milan
December 17th 2003, ffwd_mag#1 introduction, 0n gaia, Torino - Hidden Sound Fest
Music Performances
December 16th 2006, PHONORAMA ALL STARS live-electronics performance with Invernomuto / Dafne Boggeri / Marco Lampis / Riccardo Benassi / Claudio Rocchetti / Stefano Pilia / Luciano Maggiore / Valerio Tricoli / Lum / Fantasmagramma
/ Alessandro Bocci / Ootchio / Francesco Cavaliere, Raum - Bologna
April 2nd 2007, Invernomuto + Stefano Pilia - live set, Clan Destino – Faenza (RA)
Graphic design & development
2007
www.chilimoontown.com - web design. A project by Anna Galtarossa and Daniel Gonzalez, Chapultepec park, Mexico City, April 2007. Echo Park, Los Angeles and Central Park, New York, Summer 2007
Aniconics: Icon Killers - corporate design. Video festival curated by Camilla Boemio and Emiliano Montanari, with Enrico Ghezzi, Floria Sigismondi, Asia Argento and others, Rome 2007
www.xing-fisco.it - web design. F.I.S.Co. 7° Festival sullo Spettacolo Contemporaneo, Xing Bologna 2007
Netmage 07, Bissera - corporate design, Xing Bologna 2007 www.netmage.it 2006
Claudia Losi Aria Mobile - graphic design. Poster for Claudia Losi's personal exhibition at Galleria Monica de Cardenas, Milan 2006