Manon De Boer (NL/BE)
Resonating Surfaces, 2005
39:00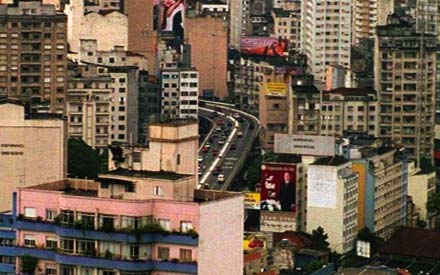 The idea for the film 'Resonating Surfaces' was preceded by a small project for an exhibition in São Paulo. For this exhibition I recorded and transcribed memories of São Paulo from people who grew up in São Paulo and now live in Europe. The almost abstract images evoked by those stories of different shades of grey, a continuous changing urban landscape, noise of cars, helicopters and birds form a general source of inspiration for the film 'Resonating Surfaces'.
The structure of the film is more specifically based on the interplay of a place and three persons. The place is the cultural center Sesc Pompeia, a former factory transformed by the Italian-Brazilian architect Lina Bo Bardi into a cultural centre. The three persons are people I met during my former visits: Suely Rolnik (psychoanalyst), Ruy Campos (economist) and Sonia Campos (housewife). The film will contain interviews with and portraits of these three, plus a few fragments of those stories of memories of São Paolo I've already recorded last year.

The film will consist of a voice-off (different voices) with fragments of interviews with Suely Rolnik, Ruy Campos and Sonia Campos (still to be recorded) and fragments of memories (already recorded). Images of the surface of São Paulo based on the colors people mention when they think of São Paulo: grey of concrete, grey asphalt, grey of the river, grey of the clouds, blue sky, green of parks. Images of the Sesc Pompeia:
- the exterior: surface of the gray factory walls with the red windows,
- the interiors: the public in the theater during a concert, people in the big hall reading, playing and watching each other.
Portraits of Suely Rolnik, Ruy Campos and Sonia Campos that will be 'silent' portraits quite similar to the screentest-like super-8 portraits in former work.
Like in my last film 'Sylvia Kristel-Paris' the soundtrack will function as a third mental space in between the text and the image. It will consist of a mix of city sounds and acoustic sounds.
These different elements (the people, the Sesc Pompeia, the memories) are not directly connected. The binding factor in the film will be the relation to the world/the Other based on a true openness to the other. In which the desire for another and better society is based on the awareness that the world is in a continuous state of becoming. In the Sesc Pompeia the architecture and the program created a place where a true public life is made possible. All the people portrayed give shape to this desire in their own way both in their personal life and work.
More elaborate descriptions of the Sesc Pompeia, Suely Rolnik, Ruy Campos and Sonia Campos and fragments of memories already recorded can be found in the booklet Re:Search and in the annex.The film will be about 45 minutes. Shot on 16mm film and edited on video.
[Manon de Boer]

Biography
born in 1966 in Kodaicanal, India. She lives in Brussels
Education
1985-1990
Akademie van Beeldende Kunsten, Rotterdam
1990-1992
Rijksakademie van Beeldende Kunsten, Amsterdam
Awards
1997
Prix de la jeune peinture belge, Brussels
2004
Prix Georges de Beauregard, FID Marseille
2006
Best Experimental Film, Film Festival, Vila do Conde
Prix Marseille Espérance (FID, Marseille)
Solo Exhibitions
2008
Manon de Boer, Frankfurter Kunstverein, Frankfurt (upcoming)
2005
Artists in Focus 13e Curtas Vila do Conde Film Festival, Solar Galerie, Vila do Conde (PT)
Resonating Surfaces, Jan Mot, Brussels
2003
Sylvia Kristel - Paris, Galerie Jan Mot, Brussels
2002
Laurien, SKOR, Amsterdam
2001
The Alpha and Omega Project, Galerie Jan Mot, Brussels
Galerie Jan Mot, ARCO, Madrid
1999
Etablissement d'en Face, Brussels
Four Takes, Stedelijk Museum Bureau, Amsterdam
L.A. Stories - 3 Variations, Huis a/d Werf, Utrecht
1997
The Monologues, Vaalserberg, Rotterdam
Group Exhibitions
2007
Inquiry into Reality. Disappearance of Public Space, Museum Contemporary Art, Belgrade
Inquiry into Reality. Disappearance of Public Space, Press to Exit Project Space, Skopje (upcoming)
52nd International Art Exhibition, Biennale di Venezia, Venice (upcoming)
2006
Programme, Jan Mot, Brussels
The Artist Cinema Commissions, Frieze Art Fair, Regent's Park, London
Underdox Festival, Münich
White Cube Opera House, Umeå, Sweden
Festival for contemporary music in Europe, Wien Modern, Vienna
Bordelaise, Centre Jean Vigo, Bordeaux
Resonating Surfaces, Hollybushgardens, Londens
The Disappearance of Public Space, Belgrade
Don Quijote, Witte de With, Rotterdam
Jan Mot, Art 37 Basel, Basel
2005
A Certain Tendency in Representation, Thomas Dane, London
Jan Mot, Frieze Art Fair, London
Screen Tests, Nederlands Fotomuseum, Rotterdam
Documentary Creations, Kunst Museum, Luzern (cat.)
Today is Just a Copy of Yesterday, Jan Mot, Brussels
Inventaire Contemporain III, Jeu de Paume, Paris
E-flux Video Rental Library, Manifesta Foundation, Amsterdam
Biografilm Festival, Bologna
10th Split Film Festival, Split, Croatia
Contour. Mechelen 2005, Stad in Vrouwenhanden, Mechelen (B)
A certain Tendency in Representation, Thomas Dane Gallery, London Manon de Boer and Brussels, Van Abbemuseum, Eindhoven (curated by Manon de Boer and Phillip van den Bossche)
IFFR / Internationaal Filmfestival, Rotterdam
International Film Festival, Hong Kong
2004
Nederland niet Nederland, Van Abbemuseum, Eindhoven
Once Upon a Time… Een blik op kunst in België in de jaren '90, MUHKA, Antwerp (cat.)
São Paulo Project, Centro Universitário Maria Antonia, São Paulo
Essential Emptiness, Beursschouwburg, Brussels
E-flux Video Rental, New York
Elders, Galerie Paul Andriesse, Amsterdam
2003
MOPH, by BDV, Tokyo
Topos, Atopos, Anatopos, Cultureel Centrum 'Stroming', Evergem (B)
Remix the Remixed: Audio Visions From Belgium, Yerba Buena Center for the Arts, San Francisco
Je me souviens (titres provisoires), Un peu plus, Brussels
Plateformes, SAT, Montréal
2002
L'effet Larsen, Casino, Forum d'art contemporain, Luxemburg
Tell Me, CC Ter Dilft and M&M Gallery, Bornem (B) (cat.)
Octopus in situ, Bruges (B) (cat.)
5th Werkleitzbiennial, Tornitz/Werkleitz (D)
New Space: Opening Show, Galerie Jan Mot, Brussels
Richard Venlet / Paramount Basics (extended), MUHKA, Antwerp (cat.)
Argos Festival, Belgian Focus, Argos, Brussels (cat.)
Topos – Atopos – Anatopos, CCNOA, Brussels
2001
Raum Aktueller Kunst/Martin Janda, Vienna
Intentional Communities, Rooseum, Center for Contemporary Art, Malmö and Contemporary Art Centre, Vilnius
Still/Life, Hartware Projekte, Dortmund
(They Say This Is The) Place, KFZ, Antwerp
L'effet Larsen, OK Zentrum für Gegenwartskunst, Linz, Austria (cat.)
2000
Exit, Chisenhale Gallery, London
Etablissement d'en face, Brussels
Threeness, Museum Dhondt Dhaenens, Deurle (B) (cat.)
Oktoberprojecties, Ten Weyngaert, Brussels (cat.)
1999
Kino Arsenal, Berlin
Snowball 2, Galerie Ulrich Fiedler, Köln
1998
Enough, Tannery, London
Sync, Pathé-bioscoop, Rotterdam (cat.)
Slipstream, Nijmegen (NL) (cat.)
Play, Ziegler, Groningen (NL)
Art Club Berlin, Art Fair, Berlin
Kunsthalle, Basel
Argos, Brussels
Dummies, de Appel, Amsterdam
1997
Bis!, Case Study House, Utrecht
Enough, Duende, Rotterdam
Prix de la Jeune Peinture Belge, Palais des Beaux-Arts, Brussels
(Laureate)
Galerie Mot & Van den Boogaard, Brussels
1996
Nomadia, Vaalserberg, Rotterdam
Perfect, Galerie Mot & Van den Boogaard, Brussels
a cumulus, Lokaal-01, Breda (NL)
1995
Withinsights, Centrum Beeldende Kunst, Rotterdam (NL)
1994
In Collaboration with, Lokaal-01, Breda (NL)
1992
Reis naar het einde van het atelier, Lokaal -01, Breda (NL)
Screenings
2007
Presto, Perfect Sound and Resonating Surfaces, MUHKA-Media, Antwerp upcoming
Gradisca International Film Studies Spring School, Gradisca
Les Hivernales du documentaire, Théâtre Le Florida, Septfonds
Première Villes Saisies/Gewonnen Steden (with Nedjma Hadj), KVS Brussel
2006
Compétition Internationale du Festival International du Documentaire de Marseille (FID), Marseille
Resonating Surfaces, 35th Film Festival, Rotterdam
Again For Tomorrow, Royal College of Art, London
Tour de Video, Goethe Institut, Casa Voyageur, Casablanca
Resonating Surfaces, Competition of the 14th Curtas Vila do Conde IFF, Vila do Conde
Les Etats Généraux du Film Documentaire, Lussas (F)
Resonating Surfaces, 35th Film Festival, Rotterdam
Sex is Politics, 6e Journées Cinématographique Dionysiennes, Cinéma l'Ecran, Saint-Denis, 2005
Lucca Film Festival, Lucca
Festival Filmer à tout prix, Brussels
2005
Hong Kong International Film Festival
IFFR, International Filmfestival Rotterdam
Inventaire Contemporain III, Jeu de Paume, Paris
Resonating Surfaces, Flagey, Brussels
2004
Doc en courts, Lyon
33e Festival Nouveau Cinéma Nouveaux Médias, Montreal
Entre-Vues, Belfort & Centre Culturel Français, Milano
International Competition of the 12th Vila do Conde ISFF, Portugal, 15th Marseilles International Documentary Film Festival
Théâtre National Marseille La Criée
Ecran total, Arenberg cinéma, Brussels
Viennale Filmfestival, Vienna
Viewpoint, International documentary film festival, Gent
Argos festival, Brussels
Doclisboa II, Lisbon
Marfici, Buenos Aires
Art Club, Berlin
Internet Work
2002
Panoramic Portraits, www.skor.nl/panoramicportraits
Artist's Books
2001
Oscillations, La Lettre volée, Brussels
Public Projects
2003
Artistic Intervention at Lock Site in Evergem (B), in collaboration with Christian Kieckens
2001
Mind Mapping, Hoofdstedelijke Openbare Bibliotheek, Brussels