Mariana Vassileva (BG/DE)
Definition, 2006
2:10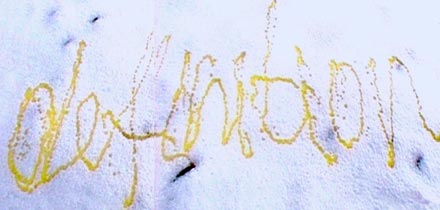 The video is immersed in existential yearning for the expanses of time and space. Out of the white landscape of snow comes a pair of bustling feet. The term DEFINITION appears, written is golden fluid in the snow. During this scene one can hear the sound of a cigarette- lighter striking and the ringing of a mobile telephone, with which the protagonist attempts in vain to reach someone....
Throughout the video one can see a beautiful bank of trees, which divide the image horizontally into earth and sky, into here and there, then and now, into the experienced and not yet experienced, perceived space, situation, state of being. As the view pans from left to right one hears a sound like a helicopter slowly separating and raising itself from the land. Then: silence, white screen, wind, the far away sound of birds singing in the wild. As the video ends you hear a dog barking, very close, beside you. Despite this pastoral idyll one still perceives the urban nature of every video sequence – the pathological restlessness.
Mariana Vassileva transforms still life and movement through visual representation of a new energetic harmony. She is not interested in the physical act of the movement, but in the mental process behind it. In a minimal way, she transforms objects, situations and manners, and presents them in another reference at a lyric level. The spectator begins to appreciate the work through the emotional movement into a strangely represented world. In this process, he is animated toward a heightened sensibility of daily variations.
Biography
Born in Bulgaria
1994-2000 studied at the Universität der Künste in Berlin, Germany
since 1991 lives and works in Berlin, Germany
Solo Exhibitions
2007
SPEEDFORMEL, DNA / Berlin, Germany
Reflections, videokunstreihe im foyer, screen spirit_continued, Städtische Galerie Bremen / Bremen, Germany
2006
Goethe Institut / Sofia, Bulgaria
Gallery Art&Food / Gijón, Spain
nothing is just, with Rivka Rinn, DNA / Berlin, Germany
2005
SPIEGEL/LICHT, DNA / Berlin, Germany
2004
Rasender Stillstand III, Prima Center / Berlin, Germany
2003
Rasender Stillstand II, DNA / Berlin, Germany
2000
Rasender Stillstand I, Galerie Weißer Elefant / Berlin, Germany
Group Exhibitions
2007
Video Killed The Painting Star, together with Nam June Paik, William
Kentridge, Sam Taylor-Wood, Grace Ndiritu, Fabian Marcaccio, among others, DA2 Salamanca / Salamanca, Spain
Wunder der Prärie, zeitraum_ex!t, Büro für Kunst Mannheim /
Mannheim, Germany
FACCIA LEI, Spazio Thetis, with Ákos Birkás, G.R.A.M., Zhang Huan, Urs Jaeggi, Jürgen Messensee, Ana Mendieta, Kimiko Yoshida, among others / Venice, Italy
Visual Immortality VI, M54 Projektraum / Basel, Switzerland
Mariana Vassileva, Asli Sungu, zeitraum_ex!t, Büro für Kunst Mannheim / Mannheim, Germany
1a Bienal del Fin del Mundo / Ushuaia, Tierra del Fuego, Argentina
VISÕES BERLINENSES, curated by T. de Arruda, Paço das Artes / São Paulo, Brazil
Portrait: Berlin, curated by M. Harder, The Moving Gallery, Nebraska Art Association / Omaha, USA
2006
VIDEOART UNA VISIÓ ACTUAL, Sala d´Art CAIXA DE MANLLEU / Vic, Spain
Vokuhila – Fragen der Form, curated by L. Seyfarth, DECK Gallery / Stuttgart, Germany
II Festival Internacional de Videopoesia 2006 / Buenos Aires, Argentina
Optica Festival / Gijon, Spain
Babylon´s Shade, ARTos foundation curated by E. Stastny / Nikosia, Cyprus
Paradise: A Step to the Left, tactileBOSCH / More Front Studio / Cardif, Wales
2 International Biennial of Contemporary Art / Shumen, Bulgaria
People and spaces, Riga Congress Center, curated by M. Harder / Riga, Latavia
Das kommt davon, Backfabrik / Berlin, Germany
ART COLOGNE, booth DNA, Berlin / Cologne, Germany
LOOP / Barcelona, Spain
DIVA / New York, USA
2005
VideoNow!, White Trash Contemporary / Hamburg, Germany
In Absentia, Exhibiton at the HOUSE Project, Chapter Art Center, curated by Tereza de Arruda / Cardif, Wales
Reflexionen, Art Center Friedrichstrasse / Berlin, Germany
Open Space, curated by I. Boubnova / Vienna, Austria
DIVA / New York, USA
2004
LOOP, International Video Art Fair / Barcelona, Spain
5 x 5 Skulptur am Pfefferberg II / Berlin, Germany
all about...SKULPTUR IN BERLIN, whiteBOX, KULTFABRIK / Munich, Germany
Neither In the Sky, Nor On the Earth, Museum of Contemporary Art / Skopje, Macedonia
2003
ZEITGENÖSSISCH! Kunst in Berlin, KPM / Berlin, Germany
KEUMSAN Gallery / Seoul, South Korea
Up and Coming, ARCO Madrid, curated by R. Martinez / Madrid, Spain
2002
INSIDEOUT 5. Festival of Contemporary Art UNDABDIEPOST2002, curated by J. Nowak and E. Scharrer / Berlin, Germany
Blaue Nacht, Kunst Bunker / Nürnberg, Germany
2001
Fünf Sterne - Fluchtwege, Galerie Weißer Elefant / Berlin, Germany
2000
Festival of Vision, curated by J. Nowak / Hong Kong, China
1999
undabdiepost1999, 3. Festival junger experimenteller Kunst, Postfuhramt / Berlin, Germany