Max Luz (DE)
Q.E.D, 2006
11:26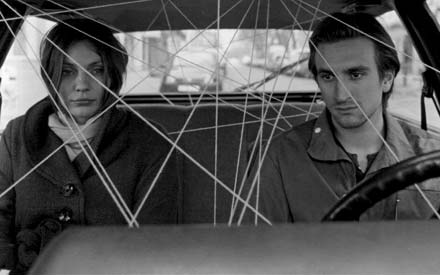 Yes Ladies and Gentlemen, the damned libido. You may still find some pleasure in it, but for someone as such as I, it is utterly tiresome. Before you can say knife it leaves you standing there like a complete fool. Certainly, we have analysis, we have discussion, but the more talk about it, the more lascivious that rascally gang becomes. I in contradistinction preach mathematics. Busying oneself with mathematics I say, is the best remedy against cupidity.
A young man W is sitting on a white bench. We watch him try to get his emotions in order by applying a mathematical formula. According to his reflections he meets three women: X, Y and Z...
So far so good, if it wasn't for damn factor V.
An abstraction in film mixing poetics, mathematics and choreography.
Biography
Max Luz was born 1981 in Berlin. After Highschool, travels to Scandinavia Russia and the U.S.A. Since 2004 he is a Screenwriting Student at HFF Potsdam-Babelsberg.
Filmography
"Open Mic" is his first documentary work, he has directed two fiction shorts:
"Rain in the Afternoon" (2004) 8mm, 5 minutes
"Usemika" (2005) 16mm, 5 minutes
Festivals
La Fila Valadolid Shortfilm Festival 13.-18.03.06 - Cameraprize
St. Petersburg Intl. Student Filmfestival 20.-25.04.06