Sébastien Caillat (FR)
Pour Finir Ici (To End Up Here), 2005
15:00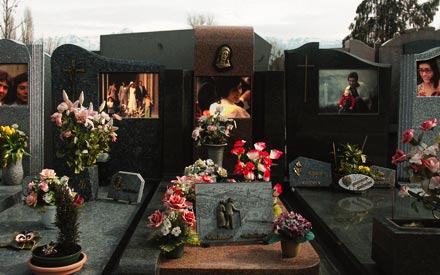 A man is travelling in his memory the day of his funeral – a mental journey parallel to the journey of his body to his tomb. His memories jostle each other like in a dream. His inner voice recounts and confides the only thing left of him: his memory. His words make sense, create their own images when those on the way no longer speak. These same words speak of a world that we do not yet know, of a world which is not glorious to which he prefers death.
The story begins again a few weeks after his funeral and shows part of this world left to us with his words.

Biography
Born in 1979 in Grenoble, France
Education
2004-2006
Le Fresnoy, National Studio of Contemporary Arts (France, Tourcoing)
Graduated with jury congratulations (June, 2006)
Promotion Jean-Luc Godard 2004-2006 (artistic collaborations with Catherine Ikam, Christophe Kihm, André S. Labarthe, Madeleine V. Doren…)
1999-2003
Art School of Grenoble (France, Grenoble)
Graduated with jury congratulations from Art School of Grenoble in 2001 and best mention in 2003
Filmography
2006 Histoire Sans Gravité (A Story Without Gravity)
Short film. Video Beta cam. Colour. 16/9. 14'. Le Fresnoy, National Studio
2005 Pour Finir Ici (To End Up Here)
Short film. HD Video. Colour. 16/9. 15'. Le Fresnoy, National Studio
2003 Ode à la vie
Short film. Digital Video. Sepia. 16/9. Art School of Grenoble
Screening and exhibitions
HISTOIRE SANS GRAVITE has been selected to festivals and exhibitions:
Grenoble, Museum of Modern Art - Exhibition 'De leurs temps' (France). 06/07 - 07/07
Valencia. Exhibition 'Observatori 2007'. 8° Festival Internacional de Investigacion Artistica de Valencia. May 2007
5th Global Chinese University Student Film and TV Festival (Hong-Kong) 04/07
Fundació Miró (Barcelone) – Exhibition 'Pigments and pixels' (Espai 13). Curator: Marie-Thérèse Champesme. 03/07-05/07
French Cinematheque (Paris). Selection Le Fresnoy. January 2007
Art School of Clermont Ferrand. Programme 'Le Fresnoy, 10th anniversary'. 29th International Short Film Festival. January 2007
PabellÒ de Cristal de la Casa de Campo (Madrid) - Exhibition 'Tentaciones'. Estampa, International Art Fair. December 2006
Slick, Contemporary Art Fair (FIAC) - Paris - October 2006
Le Fresnoy. Exhibition 'Panorama 7: Our Best World' - Curator Philippe Dagen (Le Monde)
POUR FINIR ICI has been selected to festivals and exhibitions:
Menen (Belgium). Exhibition 'Ephemerality'. Curator Christophe De Jaeger. November 2006
The farm of the bush (Marne La Vallée, France). Exhibition 'Temps libre'. October 2006
Espace Pierre Cardin (Paris). Nemo festival 'Panorama International'. April 2006
FRAC Basse-Normandie (Caen, France). Exhibition 'Boucle d'Or'. March 2006
French Cultural Centre in Belgrade (Serbia). Exhibition 'we are all alone'. Curator Carine Le Malet. February 2006
Stedelijk Museum (Belgium, Lokeren). Exhibition 'Filiaal van de hemel'. Curator Christophe De Jaeger. January 2006
Lille Museum of Modern Art. Exhibition 'Opus'. 08/05-09/05
58th Locarno International Film Festival. Session 'In progress'. August 2005
Le Fresnoy SNDAC (Tourcoing, France). Exhibition 'Panorama 6: Casting Stories'. Curator Joëlle Pijaudier-Cabot. 06/05-07/05
Mulhouse 005 (Mulhouse, France). June 2005
Prize
'Best Contemporary Artist' with 'Histoire Sans Gravité': Estampa, International Art Fair. December 2006
Exhibitions
2002 '2ème Marathon vidéo' (Lyon Museum of Contemporary Art)
2002 'Solstice' (Grenoble Art School)
2001 'Label Noiseuse' (Galery La BF15, Lyon)
2000 72 hours: a sound installation. Solo event (Art School of Grenoble)
1999 'La grande exposition Erotique' (Art School of Grenoble)
1999 'Martiens go home' by Franck Perrin (director of crash magazine)