Cécile B. Evans & Ari Allansson (FR)
Jack & Margot, 2007
11:00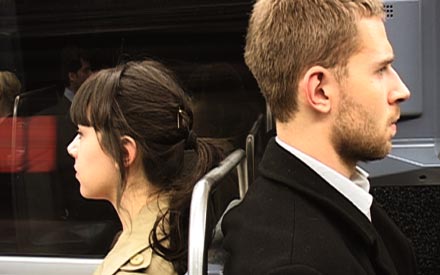 A pair of privileged dandy iconoclasts create their own reality in order to cope with the disappointments of a static post 60s globalist society, as well their inadequate intimacy. Through an investigation of structure, language, and the innate tension between fiction and reality, the film follows a couple's codependency and questions the cinematic frame surrounding the archetypal duo. As their constructed world, its consequent language, and set of rules collapses, the film examines the climactic alarms of sound and image; using the interwoven conflicts to reconstruct a memory, even as its very structure crumbles.
Entertaining notions of excessive bourgeoisie and consumption, their story generates a chilling portrait of generational malaise. Jack and Margot trespass social and relational boundaries, testing the walls that contain them. As a film, Jack and Margot aims to do the same.
Cécile B Evans (US/FR)
Education
New York University Tisch School of the Arts
New York, NY
Bachelor of Fine Arts, May 2005
Théatre, with Honors
Best in Class Meisner Award
Douglas Anderson School of the Arts
Jacksonville, FL
High School Diploma and Arts Seal with Honors
Awards/Grants
Chashama Windows Space Grant, NY, 2006
Outstanding Excellence Meisner Award, NYU, 2005
NFAA ARTS Recognition Award (Grant) , NFAA, 2001
Donna Reed Foundation Arts Award (Grant), 2001
Florida First Lady Arts Award (Grant), Governor's Office, 2001
Expositions
Plus Notre Histoire
Installation Multimedia, Creator
February 2007, Espace Commines, Paris
RENEGADES
25 year Retrospective
Performance Archives
December 2006 – January 2007, Exit Art, NY
The Glass Project
Chapter One: The Bathroom
Installation Multimedia, Creator
April 2006, Chashama, NY
Beginning to See the Light
Performance, Creation and Performance
Avril 2005, Exit Art, NY
Semaphor
Performance, Choreography and Performance
2005, Stella Adler Theatre, NY
Theatre
The Glass Project
Sympathy for the Kettle
2006, NY
Poe in April
Loewe Theatre
2006, NY

The Life and Death of Tom Thumb
LaMama
Theatre of a Two Headed Calf, 2005, NY
Top Girls
Meisner Theatre
2005, NY
Film, Television, and Commercial Resumé available upon request
Other
Bilingual English-French, Dual Citizenship Belgian-Americain, Currently holding an administrative and curation position at contemporary art gallery in Paris
Ari Allansson (IS/FR)
Projects
"The Vanishing" working on a script for a feature film based on the book "De knoop van Ijsland" by Gerrit Jan Zwier - writer
"Riitta: modern gypsy" a documentary about a romani woman living in Sweden - director
"Water" short film – writer / director
"Jack & Margot" short film - director
"Jack & Margot" feature - script consultant
"It's Ok!" script for a feature - writer
"Reykjavik in Paris" organizing a 3 day screening of films and photographs from Iceland in Paris scheduled in fall 2007
"Reykjavik International Film Festival" scheduled in fall 2007 in Reykjavik
Work experience
2007 Reykjavik International Film Festival, various
2007 Tjarnarbíó – art theatre, Reykjavik, programmation
2007 Organizing an Icelandic Film Festival in Paris, France
2006 "The Wrestling" short film by Grímur Hákonarsson, assistant director
2006 Reykjavik International Film Festival, Program and Project co-ordinator
2006 "What are you doing tomorrow?" short film – writer / director produced by Film in Stockholm, Sweden and 50% Film
2005 Producer, Saga Film, Reykjavik
2005 Journalist for Morgunbla_i_, Reykjavik, specializing in Cinema and cultural writing
2005 Stockholm International Film Festival Junior, Sales co-ordinator
2004 Stockholm International Film Festival, various
2004 Alias Theatre, Stockholm and Student Theatre, University of Stockholm. Director, writer and actor
2003 Zingofilm, Stockholm, various
Education
2007 Master of Fine Arts in Film Directing from The Paris International Film School
2005 Fil.kand from the University of Stockholm in Cinema studies
2004 B.A. in Philosophy from the University of Iceland, Reykjavik
Other Experience
2006 Invited to Nordic Talent, hosted by the Nordic TV & Film Fund, held in Copenhagen in September for young upcoming filmmakers in the Nordic countries.
2004 Taught Icelandic at the Folk University in Stockholm, Sweden
2004 Worked on the making of "Y", a feature film produced by Rock'n Roll Films, Malmö, Sweden
2004 Acted in the television film, "Presidentvalet" in Stockholm, Sweden
Has worked on a wide variety of short films, commercials, music videos,
theatre performances, since 2001