Michael Koch (CH/DE)
Wir Sind Dir Treu (We Are The Faithful), 2005
9:05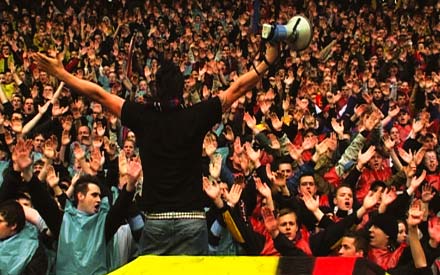 The Swiss football team FC Basel's crowd animator gives his all for the team: he decides what music to play at matches and choreographs the fans to peak performance. It's all about the energy and emotion he transmits to the fans and how he directs them. Or is it rather the game itself that the fans follow?
Biography
Born in 1982 in Luzern, Switzerland. From 1999-2004 he worked as an actor on various films and plays. Since 2003 he studies in film and television at the Academy of Media Arts Cologne. His first film "Wir sind dir treu" was screened at over 50 international festivals and won several international prizes, among them the prize for the best Swiss Shortfilm (Int. Short Film Festival Winterthur) and the Prix Canal+ in Clermont Ferrand, the biggest short film festival in Europe. His new "Shortfilm Beckenrand" (Poolside) had its Premier at the International Filmfestival in Locarno 2006.
Festivals
Internationale Hofer Filmtage 2005, Premiere, (D)
Kasseler Dokumentarfilm- und Videofest 2005 (D)
Kinofest Lünen 2005 (D)
Internationale Kurzfilmtage Winterthur 2005 (CH)
International Short Film Festival Cologne 2005 (D)
Solothurner Filmtage 2006 (CH)
Clermont-Ferrand Short Film Festival 2006 (F)
Exploding Television, im Rahmen des Internationalen Filmfestivals Rotterdam (NL)
Landshuter Kurzfilmfestival 2006 (D)
Une Nuit Trop Courte Grenoble 2006 (F)
Schweizer Jugendfilmtage Zürich 2006 (CH)
IndieLisboa 2006 (Portugal)
Young Collection 34 Bremen 2006 (D)
Documenta Madrid 2006 (Spanien)
Internationales Videofestival Bochum 2006(D)
Filmkunstfest Schwerin 2006 (D)
Busan Universiade for Digital Contents (BUDi) 2006 (South Korea)
Courtisane festival of short film, video and new media 2006 (Belgien)
European Media Art Festival Osnabrück 2006 (D)
Festival for Comtemporary Art Varna 2006 (Bulgarien)
PixelDance Video Art Festival Thessaloniki 2006 (Griechenland)
Corto in Bra 2006 (Italy)
Internationale Kurzfilmtage Oberhausen in "Profil NRW" 2006 (D)
Festival de Cannes in "Tous les Cinémas du Monde" 2006 (F)
Werkstatt für junge Filmer 2006 Wiesbaden (D)
Hamburg International Short Film Festival 2006 (D)
The Norwegian Short Film Festival Grimstad 2006 (Norway)
International Film Festival Huesca 2006 (S)
Toronto World Wide Short Film Festival 2006 (Kanada)
Festival Premiers Plans 2006, Nantes (F)
International Odense Filmfestival 2006 (Dänemark)
Festival Internacional de Cine "Expresión en Corto" 2006 (Mexico)
Sao Paulo International Short Film Festival 2006 (Brasilien)
Ethno Filmfest, ethnologisches Museum Berlin 2006 (D)
Werkleitz Biennale Happy Believers, Halle 2006 (D)
5ème édition de la semaine des cultures étrangères (FICEP), Paris 2006 (F)
Impakt Festival, Utrecht 2006 (NL)
Tinklai International Short Film Festival 2006 (Litauen)
Uppsala International Short Film Festival 2006, (Sweden)
Milano Film Festival 2006, (Italy)
50th London Film Festival, 2006 (GB)
Molodist, Kiew Int. Film Festival 2006 (Ukraine)
Munich International Festival of Film Schools, 2006 (D)
Festival Internacional de Documentales del Sur, 2006 (S)
Cork Film Festival, 2006 (Irland)
Festival Tous Courts, Aix-en-Provence, 2006 (F)
Beirut International Documentary Festival, 2006 (Lebanon)
Filmfestival Max-Ophüls Preis, Lux, Saarbrücken, 2007 (D)
Festival Internacional del Cortometraje De Santiago de Chile, 2007 (Chile)
Film Festival Ciné Junior, Paris, 2007 (F)
Ludwigsburg European Short Film Biennale, Ludwigsburg (D)
International Festival of Sport Films "Krasnogorski", Moskau (Russia)
Festival du Court Metrage Altkirch 2007 (F)
Prize
Best Swiss Short Internationale Kurzfilmtage Winterthur 2005e
3. Jury Award International Short Film Festival Cologne 2005
le prix Canal + Festival international du court métrage de Clermont-Ferrand 2006
1. Jury Award Une Nuit Trop Courte, Grenoble 2006
1. Jury Award Schweizer Jugendfilmtage 2006
Förderpreis Kurzfilm Filmkunstfest Schwerin 2006
Audience Award Documenta Madrid 2006
Special Mention Documenta Madrid 2006
Special Mention International Filmfestival Huesca 2006
Silver Impakt Award Impakt 2006
Special Mention Milano Film Festival 2006
Bester Dokumentarfilm Munich International Festival of Film Schools, 2006
Arte-Kurzfilm-Preis Munich International Festival of Film Schools, 2006